"SG" Molly vom Eis
Sch1, KKL2, Hips A1
DDR/East German Pedigree
HD: A1 Normal ED Normal

Sire:

V Lump von Theiles-Hof

Dam:

Voxi vom Haus Iris

ZW 73

East German/ DDR Pedigree
Dark Sable
DDC Veterinary Certified Degenerative Myelopathy

(

Certified

N/A

)
ZW 78
Imported from Germany, Molly is a DDR female with excellent DDR head and dark pigment. A strong and well proportioned female with very nice correct topline and underline, she has substantial bone and lovely expression with dark eyes. Her expression, character and head type is super and is typical of what we appreciate from the blood of the DDR dogs .
Molly's Koer Report
Übermittelgroß, mittelkräftig, gehaltvoll, sehr kräftiger Kopf, ausdrucksvoll, normale Gebäudeharmonie, kurze Unterbrust, breit in der Front stehend, etwas flacher Widerrist, kurze Kruppe, steiler Oberarm, gut gewinkelte Hinterhand, vitales Gangwerk mit genügender Schrittweite. TSB ausgeprägt läßt ab. HD-ZW 77, 59 cm /29 kg

Molly's father is V Lump von Theiles-Hof.
From the Haus Iris Kennel, Her mother is Voxi vom Haus Iris. She is granddaughter of two very well known DDR Stud dogs V Tino vom Felsenschloß & V Dargo von den Thüringer Kronjuwelen Her pedigree also contains the legendary dogs V Ingo von Rudingen, V Held vom Ritterberg
V Condor vom Marderpfahl, V Pushkaß vom Haus Himpel
V Mentor vom Haus Iris, V Bodo vom Gräfental,
V Golf vom Ritterberg and the well known contributors to the breed, V Alf vom Körnersee, V Don vom Rolandsteich, making Molly's an excellent working DDR pedigree.
Molly's coat color is a rich, dark sable . She has an outgoing and strong temperament. and possesses never tiring ball drive and very good protection skills making her an excellent choice for pups which will be suitable for Family protection, schutzhund, search and rescue and therapy dogs.

A beautiful repeat litter
with Lord x Molly
"J" Litter
born Feb 22 2013.
View Litter page

~~~~~

Molly whelped her 2012 "U" litter
by our Pure DDR Stud
"V" Dino vom Schäferliesel
SCH3, IPO3, KKL1, Hips A1
Litter Born
Feb 9th, 2012.
View Litter page

~~~~~

Click below for Molly x Lord's
Repeat Breeding
"F" Littter
Born September 2010!

~~~~~

Molly's 1st litter for our kennel
was sired by our
Pure DDR Stud imported from Germany,
V Lord von den Grauen von Monstab
SCH3, KKL1, Hips A1
Click Here to view their "Z" litter
7 Males / 4 Females
Litter Pedigree




Pedigree for Molly vom Eis
Molly" is linebred on the following DDR Dogs..

Linebreeding - 5 generations


5 - 4......... in V Xandor vom Eichenplatz

5 - 5......... in V Golf vom Ritterberg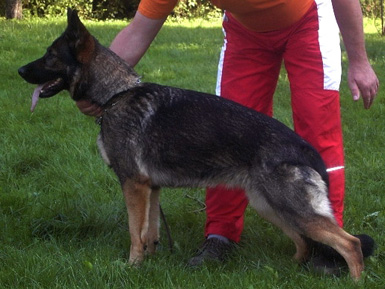 Molly vom Eis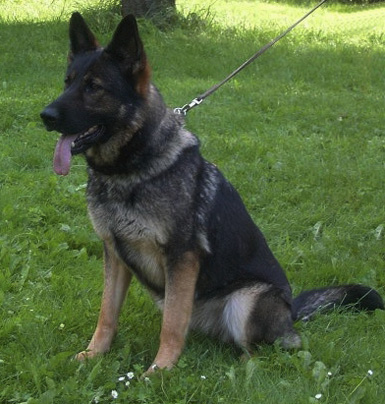 Molly vom Eis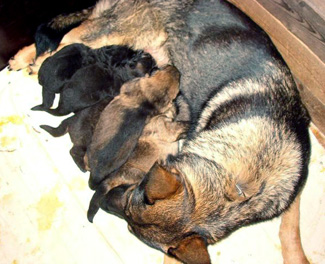 We look forward to Molly's future litters, producing excellent progeny for use in high level Schutzhund competition, PSA or Police Work.
Temperaments of her pups are clear and balanced and of good nature for use in home protection and personal protection work as well.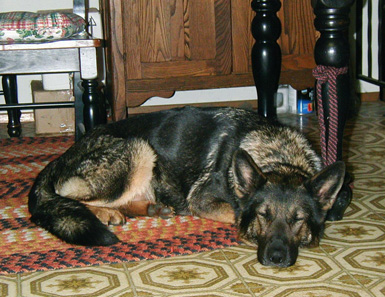 Molly in Dec 2011, pregnant with her litter sired by
Dino vom Schäferliesel
Litter was born February 9th, 2012 (FULLY RESERVED)