"V" Elfie vom Klödener Riss
Sch3, KKL1,
Hips A1 /ED Normal
Pure DDR/East German Pedigree
HD: A1 ZW 71 / ED Normal

Sire:
V Walko vom Gräfental
Pure East German/ DDR Pedigree
Black Sable

German Import

Clearance Tested: Degenerative Myelopathy


Results: DM CLEAR (Homozygous N/N, Clear)
Imported from Germany, Elfie is a 100% DDR female with excellent DDR head and dark pigment that is known to the DDR Dogs. A large and very well proportioned female with correct "V" Rated working structure, she has excellent substance of stature with substantial bone and lovely expression. Her expression, character and head type is superb and is typical of what we like to see from the the great DDR dogs, particularly in the females. She is highly protective and alerts boldly to strangers entering the premises. She is an extremely confident female, and her bite work is fast, full, and hard. Elfie is a good mother and has produced one litter of 9 pups in Germany before arriving to our kennel, sired by a Sven Grafental son, Laruh vom Grafental

Pedigree for "V" Elfie vom Klödener Riss
Elfie's coat color is a rich, dark black sable with excellent pigmentation. With an outgoing and free temperament, she is a strong female with a sure and courageous nature.
Elfie demonstrates an excellent temperament and confident nature. She possesses an excellent balance in hunt drive, tracking ability and protection skills along with very good social skills. She is a large female with great substance in bone structure with a very strong DDR head type which we look for in our DDR working females, all of which make her an excellent choice for pups which will be suitable for SAR, Family protection, IPO and Schutzhund, Police and Narcotics / Apprehension work.

An exciting DDR litter was born
sired by
Elfie x Aron vom Poppitz
Litter is FULLY RESERVED.


**
View Elfie's " D Litter "
Litter is FULLY RESERVED
Aron is
SCH3, KKL1, and V Rated.
This litter produced
" Drako von Schraderhaus "
our young, upcoming DDR Stud
Elfie is linebred on the following

DDR Dogs..



Linebreeding - 5 generations




5 - 4............. in DDR

V CH (US) Neumann's Jim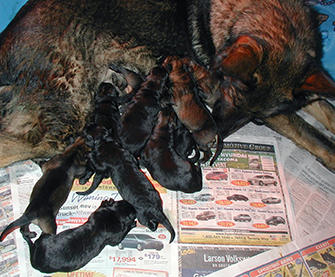 Elfie x Lord N Litter, April 2011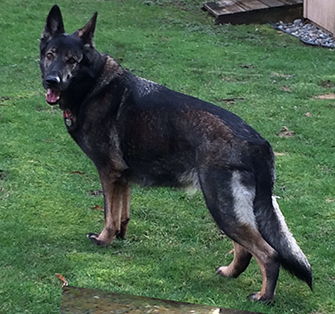 Elfie 9.5 yrs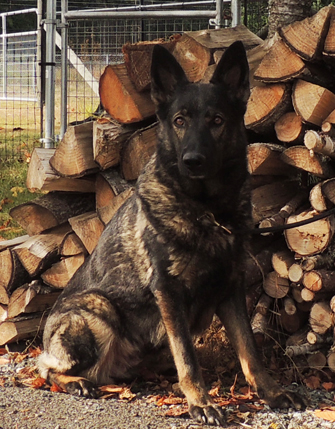 Elfie_ 3 yrs old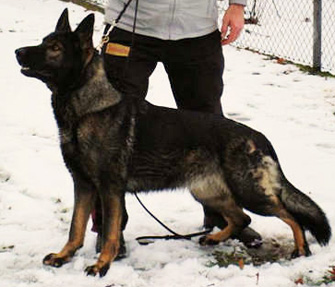 Elfie vom Klödener Riss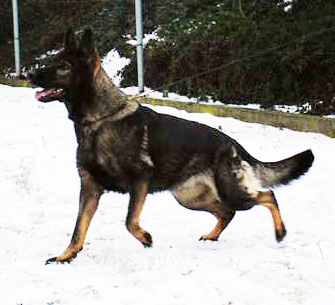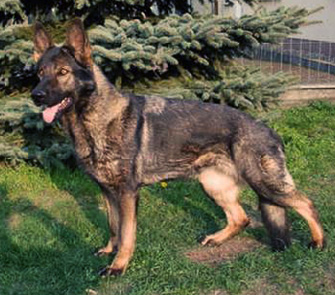 Elfie vom Klödener Riss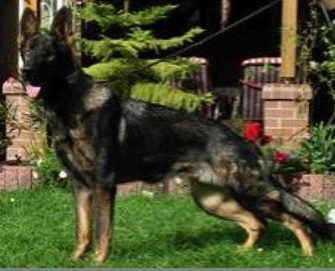 Young Elfie