Tracker Ace von Schraderhaus

ORT1, ORT3, Hips A1, DM Clear
West German- Belgium &
DDR/East German Pedigree
Sired by
Multiple WUSV Competitor and USA/ WUSV
Team Member
ACEOFNIKE Van Het Bleekhof!
DOB 10/012009
HD: Hips SV A1 & Elbows Normal
Sire: WUSV Vice Sieger


V

ACEOFNIKE Van Het Bleekhof!

SCH3, KKL1

Dam: SG Yumi vom Floriansbrunnen

SCH1, KKL1

West German, Belgium and DDR /East German Pedigree

Black Sable, Carries for black recessive, standard coat

DNA Tested: Degenerative Myelopathy




Results: DM CLEAR (Homozygous N/N, Clear)
Pedigree for Tracker Ace von Schraderhaus

A male of our own breeding and born here at Schraderhaus K9, we are pleased to include this substantial and exhuberant sire in our breeding program.
Tracker's pedigree contains multiple WUSV, BSP and LGA competitors;
From Tracker's Sire Line: WUSV: VICE-SIEGER, HIGH A, HIGH B, 4X WUSV. SCHH3 SG Aceofnike van het Bleekhof , Paternal Grandsire, SCHH 3 Ufo van Guy's Hof , and great grandfather WUSV CHAMP, 5X WUSV COMPETITOR, SCHH3, IPO3, FH SG Link vom Muikenshof . Additional well known producers include VH1, PH1 Natan vom Pacheco's Haus and V3, IP3 INJD. AFR. KAMP '86 Rick van Tiekerhook.
From the Motherline, SG Yumi vom Floriansbrunnen BH, AD, SCH1, comes Great Grandfather and well known producing stud dog, G-BSP 1997, SCH3, FH2 V Aly vom Vordersteinwald and SCH3 , FH1 (3X BSP) V Macho vom Kosakenwald.

Other greats in this pedigree include 4XBSP,1XWUSV,SCHH3, FH G Lewis von Malatesta and the great producer of a multitude of well known working progeny, V-BSP 1990, SG-BSP 1993, G-BSP 1991, SCHH3 V Troll von der bösen Nachbarschaft.

Tracker has an outgoing, funloving and very confident temperament. He is exuhberant and playful in all he participates in.. Demonstrating an excellent scenting ability along with high ball drive, coupled with a very loving attitude toward children and other small animals, Tracker is a very good choice for pups which will be used in SAR work or Therapy work or work with children, because of his calm, easy going and loving nature. We anticipate he will also provide us with progeny suitable to be utilized in the Medical Alert Field for Diabetes alert, seizure alert, and PTSD. We will utilize him in our breeding program to solidify and to bring forward these excellent traits in his progeny produced for our kennel.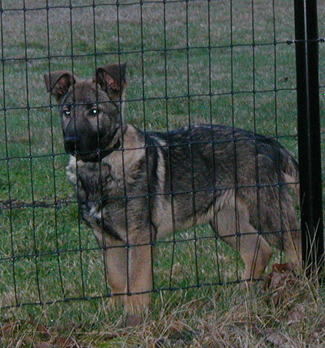 Tracker @ 4 mos