Bára z Ronbaru

ZVV1, IPO3, SCHH3, FPR3, ZPS1
HD : Hips A (0/0)
Sire:
SG Zoran Ben Ju
SCH3, IPO3 Hips A1
Dam: Velmi Dobry Ozy Favory Cross
IPO1 HD-a(0/0)
Slovak/Czech back to East German Pedigree
BiColor Blk/Tan
Clearance Tested DDC Veterinary: Degenerative
Myelopathy: DM CLEAR (Homozygous N/N, Clear)
Imported from Czech Republic , Bára's sire is
SCHH3, IPO3,

SG Zoran Ben Ju, son of .2X WUSV, SCHH3
Kinte vom Sickinger Moorwerk
, and grandson of the well
known working producer,
SCHH3 (G-BSP) FH1 IP3
SG Pike von der Schafbachmühle
.
Bára's paternal grandmother is SVV 1, IPO 3, SCHH 1
SG Tea Ben Ju
from fantastic "T" Litter sired by the
6X WUSV/FCI SCHH3,IPO3, ZVV2,BORDER PATROL 5KVS/55 VELMI DOBRY NORBO BEN-JU.
From Norbo's well known pedigree comes
IPO3, SLP1, SVV3, PZ2, SZP1, CACITVELMI DOBRY Car z Kostolianskej cesty CS and SVV1, PSH, IPO3 SG Chuna Polícia, and POLICE DOG, SCHH3, IPO3, 4X WUSV, UMS Marco z Danaru who was often used for producing strong courage and defensive drive, highly recommended for improving upon these traits for use in Police work.

In combination with Bára's motherline, brings a 5/5 line breeding on H-I, SP-PS VD Titus z Pohranicni Straze CS along with a 5/4 on
ZVV3, IPO3, ZM
Cordon An-Sat. Her maternal grandfather, SCHH3, IPO 2, ZM, ZVV1VELMI DOBRY Ilko a.d. Königshöhle and great grandfathers SCHH3,IPO3,RH,FH3(Ö) Odin aus der Königshöhle and
SCHH3 ( SG-WUSV-WM ) IP3 ( SG-FCI-WM ) ZVV1
SG Klen SNB have made great contributions to the breed by way of their proven working progeny.


This is a fantastic Working Pedigree!

Bára
carries an excellent line breeding on both

Cordon An-Sat

and

SG Adela Venusina sopka. We anticipate she will produce incredible working pups for schutzhund and police work for our kennel in the future. Breeding plans include taking her to Argo z Libocké zahrady as well as to our males Norbo Den Lu von Schraderhaus and our Pure DDR Male, Lord von den Grauen von Monstab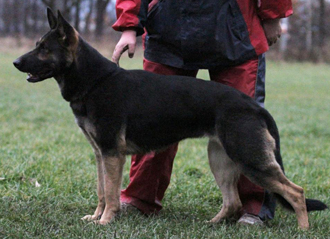 Bára z Ronbaru...at 3.5 yrs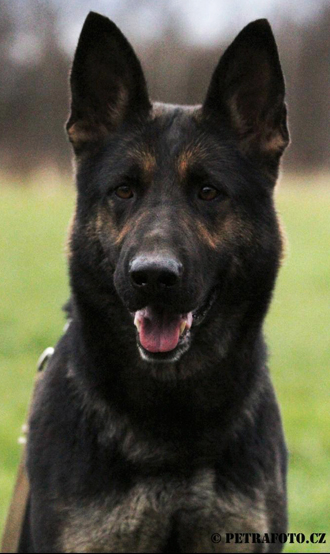 Bára z Ronbaru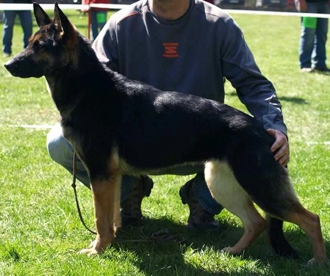 Bára at approx 30 mos