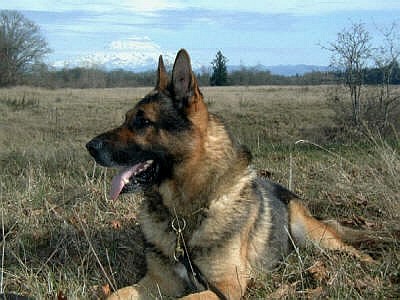 Janosch was imported from Germany for use as a personal protection dog. He was purchased by our kennel as a three year old and has since become a beloved family member. A well-built, good-sized dog, he is a strong-boned, dominant alpha male with an extreme, magnificent and substantial head type, displaying an alert, attentive expression. He imparts an overall impression of firmness and strength. Janosch exhibits a solid temperament with sound nerves and great capacity to handle stress. Janosch readily demonstrates pronounced courage, hardness and fighting drive for serious guarding in the protection work. He is an intensely loyal dog with a high willingness to please. Easy to motivate and has high play-drive qualities. Always shows a high level of self-confidence and
is steady and sure in all situations.
Janosch has nerves of steel and is pronounced in his protection abilities;
he will most definitely work in a "real" situation.

Janni's background contains some of the most important working lines of DDR and German ancestry. Famous and well known working line pedigree:
Sire is Manto vom Kahlenbach, SchH3, IPO3, KKL1"a' , FH3, WUSV 1996 Competitor placing 2nd w.291 pts. Manto won the 1993 Austrian Nationals at 3 yrs of age and won again in 1996.

Grand Sire is Lord vom Gleisdreieck, SchH3, FH3, DDR, 3 times Bundessieger German Democratic Republic ('85,'86 and '87 DDR Meisterschaft) and 2 time winner of the East German Championship ('85 & '87). Janosch is also half-brother to Balli Panta Rei,(SR) IPO3, SchH3, SVV1, ZVV3, ZPS1, VD
Hips a(0/0) and Elbows Normal.
Balli is considered amongst the top Premier Producing Stud Dogs to stand at stud, having been used extensively to improve upon biting power and defensive drives in the Czechoslovakia for the World Famous Border Patrol Stud Dog lineup in Europe.
Janosch's grandsire "Lord" was a top producing male who was renowned for imparting excellent working drives into his offspring, and was one of the finest producers of sound hips (producing good-excellent hips with around 98.5% success rate). Lord got his SchH1 title with a perfect score of 300 points. Out of his first 19 trials, he scored 15 perfect 100's in tracking. His lowest tracking score was 97!
**DDR Lines to Jeff vom Flamings-Sand, Blacky vom Gleisdreieck, & Ingo von Rudingen (credited for producing some of the strongest structural health for the working German Shepherd gene pool, vastly improving upon pigmentation and working abilities) .
Hips certified "a" fast normal / OFA Good & Elbows Normal.