DOGS FOR SALE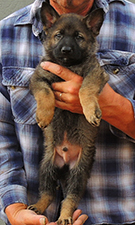 Torr @ 9 wks


Congratulations
to
Erich S., in Lacey

"Torr" has found his new home!

" XTOR von Schraderhaus "

DOB 6/12/2015
Male

Torr is a young energetic male with very good
ball drive and protection qualities.
Torr is suitable for an experienced, strong and
knowledgeable dog handler
into a working home atmosphere,
as an an excellent protection dog for the
home as well as for IPO and Police work.
Torr's father is working Police K9;
mother is Border Patrol Czech working lines.
TORR has a very good nose
and would excel in tracking /scent work.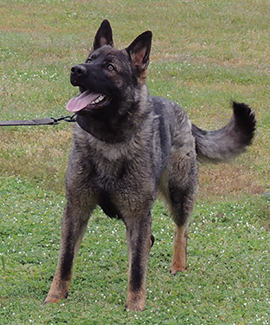 TORR 11 mos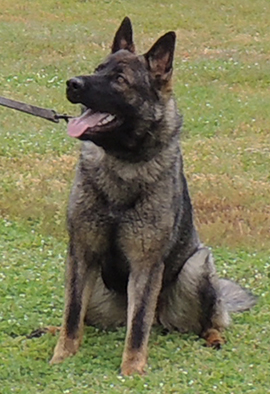 TORR 11 mos

| | | |
| --- | --- | --- |
| | TORR 11 mos | |

SOLD
Congratulations to
Fernando and Jennifer L.,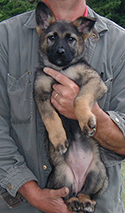 Whitney at 9 wks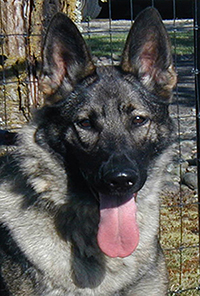 "Whitney
von
Schraderhaus"
A medium large sized but substantial and
lively black sable female,
suitable for
Home Protection and Family companion,
Whitney von Schraderhaus
is a young Female
Suitable for a knowledgeable dog owner as very good home
protection dog and family
guardian. She would also excel in
SAR work and Canine Nosework
possessing an excellent temperament,
Whitney is nicely motivated
to work,
demonstrating an extraordinary natural ability and interest in using her nose.
She has had beginning tracking
and narcotics scent work training.

Spayed Female
* Microchipped *


Shipping Additional
if Required



DOB
April 1st
2012


Whitney has lived inside as well
as outdoors.
She is fully crate trained but
prefers to spend the majority
of her time outdoors where
she can oversee
what's going on around her.

She is a busy girl and IS NOT an
"off leash Dog Park" kind of dog !
While she's not confrontational, she
also won't ignore a challenge from other females, but is tolerant
of male dogs.
She will also tolerate cats
and other small animals.






SOLD
" Riscay "
aka Rhea
DOB August 15th, 2013

Solid Black Female
Aron vom Poppitz
X
Elfie vom Klodener Riss
Spayed

Shipping Additional if needed.






SOLD
Congratulations to
Tanis D, Fort Collins

Cuvára von Schraderhaus
1.5 yrs of age

DOB 10/01/2012
Eina x Ivo Litter
DM Clear
50% DDR /50% Czech

Suitable for knowledgeable dog owner
as a very good home companion and family
guardigan, Cuvara has lived inside as
well as outdoors.

Cuvara is NOT an offleash Dog Park kind of dog !
She's non controntational but won't ignore a
challenge from other females,
and is tolerant of male dogs. .