Biscaya Moravia Campanella

SG Rated , ZVV1, Hips Elbows A1
▪ HD:A Normal

▪
Sire:
V Baghiro von den bösen Eichen

▪ Dam:
Kirby Hartis Bohemia

▪
West/ Czech/ East German Pedigree
▪
Black Sable
▪

DM
Clearance Tested DDC Veterinary:
DM CLEAR (Homozygous N/N, Clear)

Biscaya is a big strong female with a very happy temperament. Her civil drive is super and she has a very good fast long bite. Biscaya is excellent with kids and good with other dogs. She has previously whelped two litters of 8 and 9 pups. Biscaya has an excellent pedigree for breeding and is ZVV1 titled, with scores of 97 in tracking and protection work. Biscaya is SG rated for working class show. She has A1 stamped hips and elbows, DNA.

Biscaya is a sure and strong female, extremely confident and unwavering in all situations. Showing excellent defense and civil barking skills, in protection she is serious and highly capable, with her obvious intent being to take down the perpetrator. She conducts herself in a mannerly way in public with steady and sure nerves, showing a great capacity to handle stress. Her scores reflect her excellent working ability and we are pleased to add this excellent female to our working breeding program..
From her father-line Biscaya is the daughter of IPO 3,FH 2,IPO-FH V Baghiro von den bösen Eichen, who descends from the von der bösen Nächbarschaft lineage, her grandfather being 2XWUSV,2XBSP,SCHH3,IP3,FH
1998 WUSV CHAMPION Quasy von der bösen Nachbarschaft, great grandparents 5X BSP, SCHH3, IP3
V Xato von der bösen Nachbarschaft (son of SCHH3 V-BSP FH IP3V Aik vom Haus Cindy) and V Angie von der bösen Nachbarschaft, and great great grandparents SchH3/FH V Resi von der bösen Nachbarschaft and SCHH3 ( V-BSP ) FH SG Timmy von der bösen Nachbarschaft (son of V-BSP 1987, SCHH3, FH V Fero vom Zeuterner Himmelreich and V-BSP 1982, SG-BSP 1983, 1984, SCHH3, IP3, FH
V Askia vom Froschgraben.
Her mother ZVV1 Kirby Hartis Bohemia is an impressive bloodline combination of known West, Czech and DDR Dogs who are proven producers of excellent capable working offspring. There are many WUSV, BSP and LGA competitors in her background and the working scores she has earned prove her to be a highly capable female. This proven bloodline goes back on some of the strongest producing DDR blood of SCHH3 Bero vom Friedersdorfer Flur, SchH1/FH Gomo vom Schieferschloß,
SchH2/FH/PSH1 V Berry von Christelas (DDR),
DDR SGR 1971-72, SCHH3 V Condor vom Marderpfahl including several lines tracing back to many dogs from the von Rudingen kennel and von Baruther Land kennel. Behind Moni von Rudingen is one of the first DDR Siegers, VA DDR SIEGER 1949 Roland vom Teglerforst ,
SchH3 Kkl 1 Sire Born : 10. December 1944

This is a SUPER working Pedigree!
We are pleased to include Biscaya into our breeding program and are confident that she will add a strong work ethic and hardness to her puppies along with an outgoing and confident temperament. Her pups will be manageable and easily trained, and highly suited for police work, schutzhund, home and personal protection dogs.
● Biscaya's Pedigree Biscaya Scorebook ZVV1

Imported from Eurosport K9 in Slovakia,
Biscaya arrived to us "in whelp" to their
WORLD competition male,
Italo zet Eurosportu.
Litter Page
Litter Pedigree for Biscaya X Italo
Obedience Training Video of Italo
Italo's Working Photos from Eurosport K9
This litter is SOLD


Biscaya whelped her litter sired by
our solid black Slovak Stud Male,
Argo z Libocké zahrady, ZVV1, IPO1.
Litter born August 7th, 2011.
This litter is SOLD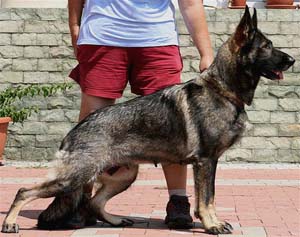 "SG" Biscaya Moravia Campanella ZVV1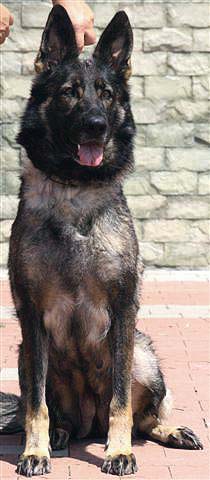 Protection, Extreme talent in bite work
Very good tracking with deep nose
Crisp and precise in Obedience

Click to view Scorebook for Biscaya