Tobienne von Schraderhaus (Retired)
Czech/DDR-East German Pedigree
Tobienne has great drive, and is an exuberant female of excellent proportion and substance. A confident young female, she has good prey drive and tireless energy. Her temperament is outgoing and friendly, and she exhibits high intelligence, steady nerve, and a keen deep nose.
Her excellent producing sire
is our Pure East German DDR Stud
Lux vom Kameruner Eck
. Lux is V Rated, Sch3, KKL1 for Life.
Imported from Germany, his pedigree is excellent working lineage of Pure DDR/ East German bloodlines. Lux is
an extreme quality male with very good work ethic demonstrating super bitework, super retrieve, and confidence on slick floors. He is
a large boned, substantial male with an excellent large blocky head that the DDR dogs are so well known to possess and pass along into their offspring. He possesses a deep, richly pigmented dark black sable coat which he has consistently passed along to his offspring. His drive for the ball is incredible, and in protection work he comes at the helper like a rocket. with excellent civil and defensive drive. Lux's temperament is very solid and he is an attentive dog to the handler.
He is agreeable, willing and ready to work.
Lux's Sire,
Tino vom
Felsenschloß
was
a highly sought after sire in Germany, siring excellent working progeny. Lux is a grandson of Lord vom Gleisdreieck, well known for imparting excellent working drives into his offspring, particularly for tracking and protection work. DDR
Lines to Jeff vom Flamings-Sand, Blacky vom Gleisdreieck, and Ingo von Rudingen (credited for producing some of the strongest structural health for the working German Shepherd gene pool, vastly improving upon pigmentation and working
abilities).


Tobienne's dam is our own excellent producing retired brood bitch Xena Ort CS
Imported directly from Slovakia, Xena has the distinction of earning her title honors through the efforts of her then family member and master, a 14 year old boy.
Xena is a beautiful and large bi-color of rich black pigmentation on her topside with a rich accent of red on her lower torso. She has a beautiful head and large bone structure and those who come to see Xena do not guess at first that she is a female. She has an excellent temperament, is very friendly with new people she is meeting for the first time, is fun loving and very devoted, noting where her master is at all times. However, she is extreme in protection of her surroundings and is quick to let you know if someone is entering the property. Xena's sire Niko Milvel IPO3, SCH3 is rated excellent, hips and elbows 0/0.

Her dam, Hexa Bino CS is rated very good, hips and elbows 0/0 and is titled ZVV1.

Her grand-dam Betty Darajam CS is one of a very few select females to achieve the difficult title of ZVV3, as well as earning a ZM, IPO2, & OP1. Her great grand-dam,

Axa z Travnickova dvora also achieved the coveted ZVV3, along with her ZM and ZPO titles

.


Xena is an excellent mother and a very good producer, producing large, well proportioned pups with correct structure and wonderful temperament.
A wonderful example of what the GSD should be around children of all ages, Xena is also accepting of cats and other dogs including females, and is able to co-exist with other females that we have as house members; yet she will staunchly defend her territory when challenged. Steady and sure of nerve,

Xena is titled SVV1, with Hips and Elbows 0/0
Tobienne brings these same excellent qualities as well, and we look forward to her future offspring produced for our kennel
**Tobienne's 2012 litter
sired by our Imported Pure DDR Stud
"V" Ivo von Hauental, SCH3, KKL1, Hips A1
Litter born September 7th, 2012
Ivo x Tobienne Litter
Litter pedigree
(All Pups from 2012 litter are SOLD)
~ ~ ~ ~ ~ ~ ~

Tobienne produced her 1st litter in 2009
sired by our solid black Slovak male,
Argo z Libocké zahrady ,
son of Xac z Pohranicní stráze
Pups born November 2nd, 2009.
Litter Pedigree for Tobienne x Argo
Click for Puppy Pics of Tobienne's Litter by Argo
(All Pups from 2009 litter are SOLD)
~ ~ ~ ~ ~ ~ ~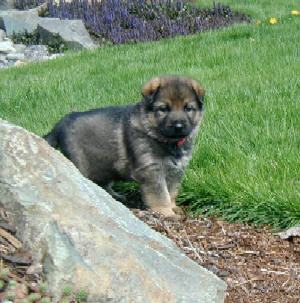 Tobienne @ 5 wks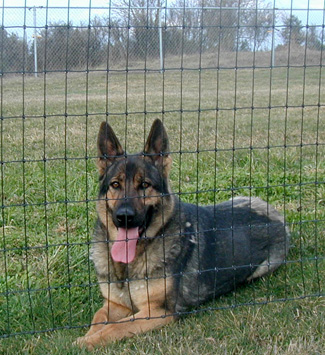 Tobienne platz_ 2 yrs old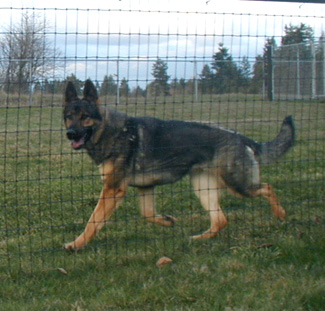 Tobienne side_ 2 yrs old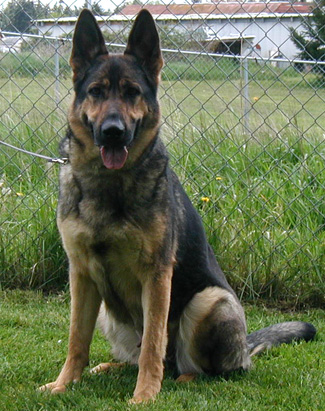 Tobienne_ 2.5 yrs old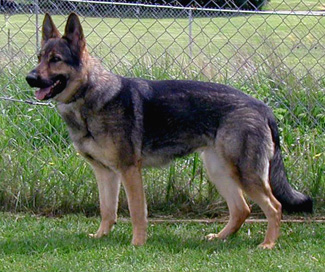 Tobienne 2.5 yrs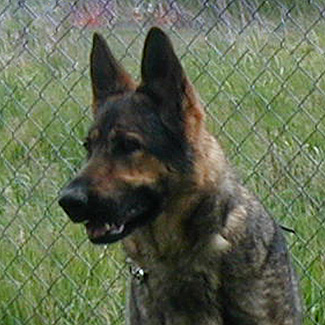 Tobienne 2.5 yrs