SG Aida Maestus
IPO3, FPR3, KKL1, 5CJU1/P

Sire:
SCHH3 (V-BSP, SG-WUSV-WM), IPO3, BUNDESSIEGER 08
V (BSZS)

Javir vom Talka Marda
Dam: ZVV1, IPO1, SCHH1 Brook Laperys
West/ DDR/ Czech Pedigree
Black Sable
Hips 0/0 /Elbows normal
Clearance Tested DDC Veterinary: Degenerative
Myelopathy: DM certified N/A
Imported from Slovakia, Aida's pedigree consists of multiple WUSV, BSP and LGA Competition dogs, well known in working pedigrees. She is the daughter of the Hottest working sire available in Germany for more than five consecutive years in 2009, SCHH3 (V-BSP, SG-WUSV-WM), IPO3, BUNDESSIEGER 08

V (BSZS)

Javir vom Talka Marda
World Vice Sieger and multiple WUSV Competitor
More info and pics of Javir

Her dam,ZZV1, IPO1, SCHH1Brook Laperys is granddaughter of SCHH3 IP3 (3X SG-BSP) WUSV FCI


V

Falk von den Wölfen, whose sire is
SCHH3 (V-BSP) FH1

V

Ahron von Granit Rose.

Aida's grandmother
Charlie Bily Trpaslik
is the daughter of
-WUSV-FCI-
"V" Floh vom Patscherkofel,
SCHH3, IP3, FH3(Ö) STAATSMEISTER, BUNDESSIEGER...
Charlie's dam is the incredible female
"V" Denny Bílý Trpaslík..
IPO3, SCHH3, ZVV3, UMČR IPO, IPO-FH.
Aida's pedigree background is of very good working lines, combining well known West working lines of
V-BSP 1990, SG-BSP 1993, G-BSP 1991, SCHH3
V

Troll von der bösen Nachbarschaft
Included in her pedigree is is the legendary and well known
Excellent
producer of Czech working Police dogs,
Grim z Pohranicni straze
.
Charlie's mother,
IPO3, SCHH3, ZVV3, UMČR IPO, IPO-FH
V Denny Bílý Trpaslík
has produced several litters of excellent working progeny who have gone on to compete at very high levels, including Charlie's half brother,
Jack Bílý Trpaslik
,
IPO3, SCHH1, SCHH (VPG)3,
son of
WUSVX6,
SCHH3, IPO3, ZVV3, ZM,
SG Orry (IT)
Charlie's litter sister,
Cher Bílý Trpaslik
produced the stud male
Bady Ze Svobodneho dvora
,
currently being utilized at stud by Jinopo in Czech Republic.
Many more World Competition dogs are found in Aida's pedigree, ...Click pedigree link for more information!

Aida's Pedigree
This is a
Super Working Pedigree!
We're looking forward to the excellent working pups Aida will produce for our kennel, for Schutzhund IPO, Narcotics and police work as well as home and personal protection dogs.


Aida's 1st litter for Schraderhaus K9
was sired by
our West German Import male,

Aik vom Brachtpetal,
BH, AD, IPO1

Litter Born
March 28th, 2014.
Click Here
to view their " B " Litter


~~~~~~~~
Aida's 2015 litter
was sired by
our Czech /Slovak male
(son of our female Hena Ben Ju...)
Import male,
V
D Camaro z Pat-Pan
BH, IPO1

Litter Born
April 17th, 2015
Click Here
to view their " V " Litter


Aida's 2016 litter
will be sired by
our DDR /Czech male
Mango Cerna Bohemia
Imported
from Belgium.
Litter Expected
late Summer, 2016
Click Here
to view their " N " Litter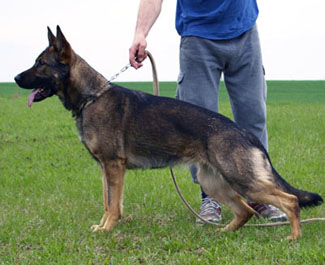 Aida Maestus in Czech Republic