Imported from Slovakia, Elba is a large bodied, substantial and heavily boned female with well developed deep chest, powerful front shoulder and rear quarters. Very nice topline and underline, with lovely expressive head type and dark eyes. Rich and thick black sable coat pattern of deep dark pigmentation. Elba has an extremely high play / ball drive and exhibits an effective ability for problem solving. Her nose is deep and accurate and she enjoys the work, having excellent obedience skills with an appreciable work ethic inherited from her strong and proven working pedigree
Elba shows serious, civil and rhythmic barking skills and bites like an alligator, taking her protection work seriously and works for real. She has good focus and super strong nerve, and is an amazing and agile athlete with exceptional power and speed. Elba possesses good social skills and is excellent with small children. She is non-confrontational or dog aggressive, yet she will not back down in the event she is challenged. She is a force to behold if the situation demands it and can be an extremely dominant female.
Possessing one of the best known and most sought after working line pedigrees, and carrying the bloodlines of Pohranicní straze, Elba is the daughter of the World Renown producing stud dog, Xero z Pohranicni straze SchH3, IPO3)...Rated Velmi Dobry, 1st select Breeding Class with pronounced courage, hardness and willingness to fight, hips and elbows a0/0. Xero is the most famous and long producing son of Grim z Pohranicni straze (ZVV3, IPO3, SchH3). Grim z Ps. was one of the most well known producers from the Pohranicni straze kennel, and was awarded Best Czech Defender, Multiple WUSV Competitor, 1997 Czech National Champion and placed 7th in the 1997 WUSV.
Elba is also a daughter from the well known Figa Cega litter, which goes back on some of the strongest producing DDR blood of Bero v.d. Friedersdorfer Flur, Held v. Ritterberg, and Ingo v. Rudingen. Held and Ingo produced some of the strongest structural health for the German Shepherd gene pool and vastly improved upon pigmentation and working abilities within the German Shepherd Breed as a whole.
Elba is titled SVV1, IPO1, rated Dobry, with hips and elbows 0/0. Elba is 1st Select Breeding Class recommended for improvement of the breed
Elba produced excellent working pups which are large with substantial, solid boning and working body structure. Head type is large and blocky; pups present good focus and sureness, being very quick to investigate new things with no sign of fear or hesitation when presented with a new scenario to work through. Prey drive comes on strongly. and scenting abilities are highly evident at an early age; the pups demonstrating deep and persistent noses on the ground.
To view our own lovely females from Elba, Click to view pages for Ricochet von Schraderhaus, daughter of Cak Pisecna Boure, multiple times SCH 3 and International competitor, and our female Yeltsa von Schraderhaus, daughter of our DDR male "V" Lux vom Kameruner Eck. SCH3
Below are three fun photos taken of Elba, sent from her owner Steve, who took her out for a fun day of memories
to do bitework.
The " old gal " still has the love for the work and drive for the sleeve, shown below in February, 2011
@ 11.5 years of age.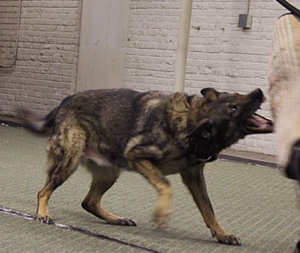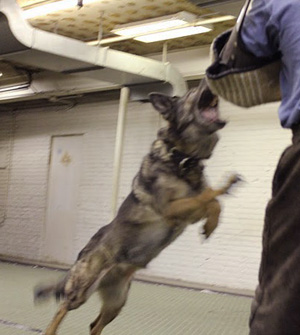 Elba at 11.5 years of age!!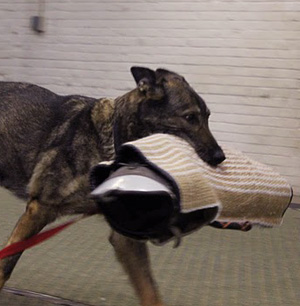 Elba @ 2 years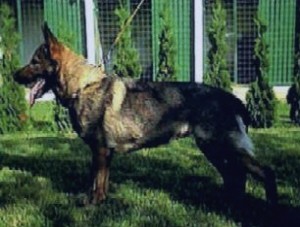 Elba at 8 years of age (Below)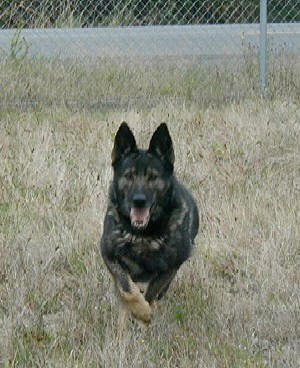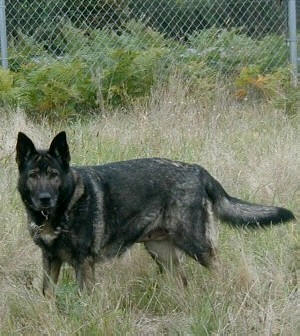 Elba @ 8 yrs old- September 30th, 2007

An exceptional litter from Elba was produced in 2006 by our "V" Rated stud dog Lux vom Kameruner Eck Schh3, KKL1, Pure DDR Bloodlines This excellent cross produced incredible pups with great substance and excellent head type. Temperaments were sure and brave, with pups exhibiting deep nose and never ending ball drive.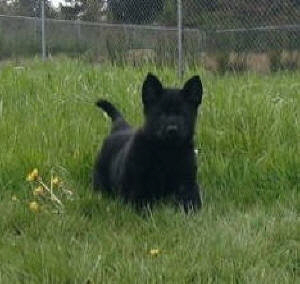 Elba Sons...
Michelof von Schraderhaus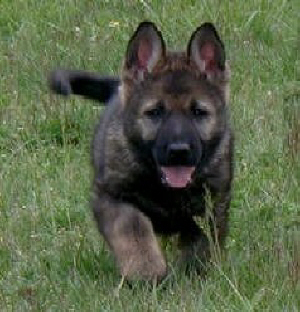 and
Milosovich von Schraderhaus

2006 Litter Elba X Lux Pups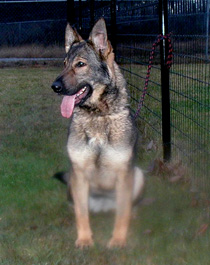 Elba's daughter, Yeltsa von Schraderhaus
Elba x Lux vom Kameruner Eck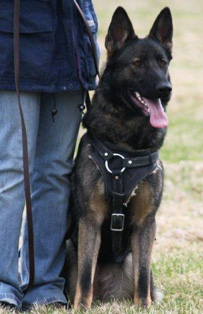 Granddaughter,
Alexa Morgan von Schraderhaus
Yeltsa x Chachar Bily Trpaslik