Imported from Slovakia, Loly is a medium large bodied, substantial and compact female with well developed deep chest, powerful front shoulder and rear quarters. She possess a very nice topline and underline, with a lovely expressive head type & dark eyes. Loly is a BiColor.
Lola is a sure and strong female, extremely confident and unflappable in all situations. Showing excellent civil skills, in protection she is serious and highly capable, with her obvious intent being to take down the perpetrator. She conducts herself in a mannerly way in public with steady and sure nerves, showing a great capacity to handle stress. She is a civil and highly dominant female. Lola immediately commands respect and is formidable and fearless when she detects a threat and is one of the toughest , most courageous females we have ever seen.
With a superior, well known and most highly sought after working-line pedigree, and carrying the bloodlines of Pohranicní stráze, Lola is the daughter of Ori z Danaru, SVV2. Ori is grandson to outstanding producer Car pod Molinosskou Bannou, V Rated, SVV3, IPO3, SPO3. Yet another great product of the Slovak breeding program, Lola is a super confident and calm worker, and a very independent dog who will easily protect her handler and get the attacker in all situations.
Lola is also a grand-daughter of Figa Cega, and daughter of Came z Esagilu. Her mother Came Esagilu is daughter of Grim z Pohranicní stráze (ZVV3, IPO3, SchH3, ZPS1, FH1) Grim z Ps. was one of the most well known producers from the Pohranicni straze kennel, and was awarded Best Czech Defender, Multiple WUSV Competitor, 1997 Czech National Champion and placed 7th in the 1997 WUSV. This proven bloodline goes back on some of the strongest producing DDR blood of Bero v.d. Friedersdorfer Flur, Held v. Ritterberg, and Ingo v. Rudingen. Held and Ingo produced much of the strongest structural health for the German Shepherd gene pool and vastly improved upon pigmentation and working abilities within the German Shepherd Breed as a whole.
Lola is breed surveyed rated Dobry, 1st Select Breeding Class, Titled SVV1, with Hips and Elbows rated A1
We are pleased to include Lola into our breeding program and are confident that she will add a strong work ethic and hardness to her puppies along with an outgoing and confident temperament. Her pups will be manageable and easily trained, and highly suited for police work, schutzhund, home and personal protection dogs.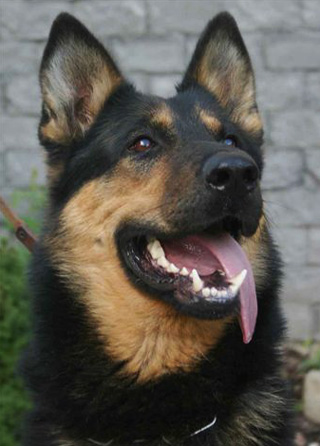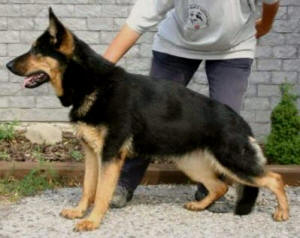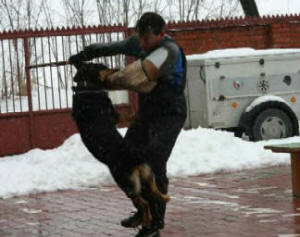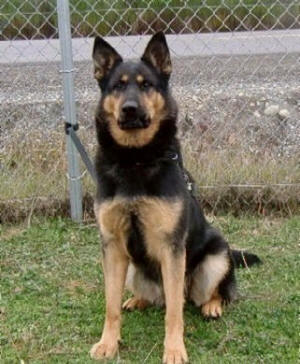 Lola 's pups are fearless, and we are thrilled to have recently purchased one of the females from Lola's 1st litter, sired by Galant z Pohranicni stráze in Slovakia...Helga z Eurosportu. Lola produces puppies with high focus and drive, with most being placed in strong working homes or police service assignments, and we anticipate the same quality offspring from her daughter Helga.
Click to view videos of Loly's son, littermate to our Helga z Eurosportu
Hulk.z Eurosportu...working Police K9.. and clips on the job...
http://www.youtube.com/watch?v=w5dquhjfP9I&feature=related
Lola's 1st litter for Schraderhaus K9 was sired by our
V Rated Pure DDR stud
Lux vom Kameruner Eck, ,
Schh 3, KKL1
Litter Pedigree for Lux x Loly
Litter is fully reserved
~~~~~~~
Loly produced her 2nd litter for Schraderhaus K9
by our Solid Black Stud male
Argo z Libocké Zahrady
Born February 27th, 2008
This litter produced our young female
Eina von Schraderhaus
* Litter Pedigree for Argo x Loly
Loly x Argo Puppy Pics
Litter is fully reserved
~~~~~~~
Loly's May 2009 litter
was a repeat mating sired by
our beautiful Sch3 DDR stud dog
Lux vom Kameruner Eck,
This litter
produced our female
Pascha von Schraderhaus
on May 16th, 2009
Litter is fully reserved

~~~~~~~