"Xena Ort, CS"
SVV1, Velmi Dobry, Hips 0/0
October 27. 1998 ~ July 1, 2013
RIP our Dear Xena
HD: 0/0
Sire: Niko Milvel
Dam: Hexa Bino
Slovak/Czech Pedigree
BiColor
DM Clear
Xena is a BiColor female, imported from Slovakia. She is substantial in size with strong firm build and exceptional bone; the quality of which is not often seen in females. Xena has dark almond shaped eyes with a lovely bright expression and firm erect ear set, set correctly on a very beautiful & large head. Possessing an extremely stable temperament, She is outgoing and personable. Xena gets along well with other dogs, cats and people. Will protect her territory when the need is present and has good play/ prey drive. Possesses extremely sound nerves while showing a high level of confidence and warmth when placed in new surroundings and situations. She is a devoted dog to her people and strives to please above all else. Exhibits excellent maternal instincts and mothering abilities, and is a proven producer of pups with excellent working drives.
From a combination of some of the best working bloodlines from Czechoslovakia, Xena's sire, Niko Milvel IPO3, SCH2 is rated Výborný (excellent), hips and elbows 0/0. Her dam, Hexa Bino CS is rated velmi dobry, hips and elbows 0/0 and is titled ZVV1. Her grand-dam Betty Darajam CS is one of a very few select females to achieve the difficult title of ZVV3, as well as earning a ZM, IPO2, & OP1. Her great grand-dam, Axa z Travnickova dvora also achieved the coveted ZVV3, along with her ZM and ZPO titles.
Xena is titled SVV1, Rated Velmi Dobrý, Hips & Elbows 0/0.

In 2004 a beautiful litter of 11 pups was born to Xena sired by our stud dog, East German Import Janosch v.d. Mosellorely. Janosch is the son of Manto vom Kahlenbach and grandson of the legendary Lord vom Gleisdreieck. Both Janosch's sire and grandsire have done much to improve the working structure for hips as well as solid and firm working body type, and have been tested and awarded scores which were pronounced in protection as demonstrated in their excellent bitework, and these traits are solidly passed along into their offspring. Tracking ability of the parentage is also top notch, making their offspring very well suited to police work or search and rescue. See Previous Xena X Janosch Litter.
Xena produces excellent quality pups who are playful showing good focus and intelligence. She is a large boned female with an extremely warm nature; producing size, substance, solid working body structure & beautiful conformation. Xena is an excellent mother, producing large, well proportioned pups with correct structure and wonderful temperaments!. She is excellent and totally trustworthy around children of all ages, as well as cats and other dogs including females, behaving in a non confrontational manner and is and completely steady of nerve.

Xena produced several excellent litters by our pure DDR Stud male "V" Rated Lux vom Kameruner Eck , SCH3, KKL1 for Life. Together they produced our Lobo von Schraderhaus, and also our Tobienne von Schraderhaus...This was a very nice Czech/ DDR cross, which we repeated several times.... Xena's pups have excellent head type and substance, with very good drive , tracking ability and sensible character for easy trainability. . Temperaments were sure and outgoing;
View puppy pics from their "L" Litter and their "T" Litter
View puppy pics from their "Z" litter
Xena is now Retired
and resides here with our family.
View her final litter
by our stud
Argo z Libocké zahrady
~ This mating produced our
LoLinda Uma von Schraderhaus,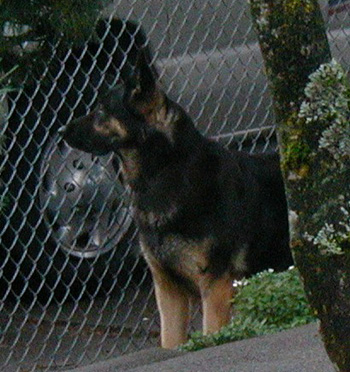 Xena @ 9 1/2 years old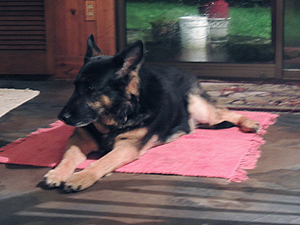 Xena at 14 yrs 7 mos...
She's still a beauty!