Eina von Schraderhaus
Slovak/Czech/DDR-East German Pedigree
Titles: AD, BH, TR1 (99 pts)

Eina has energetic drive, and is a serious, exuberant female of excellent proportion and substance. A confident young female, she has good focus and work ethic, and her energy is tireless. Eina possesses a correct, natural suspicion of strangers upon first meeting them, then accepts them readily after thoroughly checking them out. She has good social skills. Her civil instinct is clearly evident at a young age. Like her mother Loly, Eina is a highly dominant but non-confrontational female. She has proven to have an excellent, accurate and deep nose, receiving 99 pts for her TR1 tracking title.

Her excellent producing sire, our Slovak Import Argo z Libocké zahrady, is an absolutely impressive, heavily boned, serious and substantial solid black male with excellent masculine characteristics. Large and solid body structure with very good working conformation, Argo possesses the great head type which is typical of the Slovak and East German / DDR Dogs. Argo is a Slovak Import with Hips A1. He is an extreme quality male with very good work ethic demonstrating super bitework, super retrieve, and confidence on slick floors. He has good health.
Argo's maternal grandsire, Cak Pisecna boure has produced excellent working progeny on an International level for over 6 years and imparts perfect character type into his progeny. He is a gorgeous solid black male with massive boning coupled with an extremely strong head type. Cak has sired 63 successful working litters during his breeding career in Europe, with many of his progeny being utilized and certified for work in Law Enforcement.

Eina's dam is our own excellent producing brood bitch

Loly Novy Spis.

Loly w

as

imported from Slovakia and

comes with a superior and highly sought after working-line pedigree from the bloodlines of Pohranicni straze Breeding Station. Loly is the daughter of Ori z Danaru, SVV2. Ori is grandson to outstanding producer

Car pod Molinosskou Bannou, V Rated, SVV3, IPO3, SPO3.

Yet another great product of the Slovak breeding program, Loly is a super confident and calm worker, and a very independent dog who will easily protect her handler and get the attacker in all situations. She is undoubtedly the most serious female we have found and imparts her courage into her offspring. Loly is also a grand-daughter of Figa Cega,

and daughter of

Came z Esagilu.

Her mother Came Esagilu is daughter of

Grim z Pohranicní stráze

(ZVV3, IPO3, SchH3, ZPS1, FH1)

Grim z Ps. was one of the most well known producers from the Pohranicni straze kennel, and was awarded

Best Czech Defender, Multiple WUSV Competitor, 1997 Czech National Champion and placed 7th in the 1997 WUSV.

This proven bloodline goes back on some of the strongest producing DDR blood of Bero v.d. Friedersdorfer Flur, Held v. Ritterberg, and Ingo v. Rudingen. Held and Ingo produced much of the strongest structural health for the German Shepherd gene pool and vastly improved upon pigmentation and working abilities within the German Shepherd Breed as a whole.


Loly is breed surveyed rated Dobry, 1st Select Breeding Class, Titled SVV1, with Hips and Elbows rated A1

Eina was trained and titled by our friend Martina Wilson for her working titles BH, Endurance title AD and TR1 tracking title earning 99 out of 100 pts. She will become an important addition to our breeding program.
Eina's first litter was sired by our stud Lobo von Schraderhaus March 9th, 2011.
She will be bred for a future litter from our dearly missed stud male, the late Norbo von Schraderhaus... (Norbo Ben Ju

x

Denny Jipo Me). From Eina's litter with Norbo we kept back the lovely black sable female Kileen for our future breeding program.

We look forward to the excellent progeny produced from this quality female in the future.
Eina's Pedigree



**

Training for Titles

(Training Photo

s)



**

Eina Playing in the snow Photos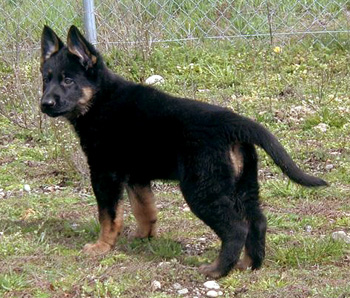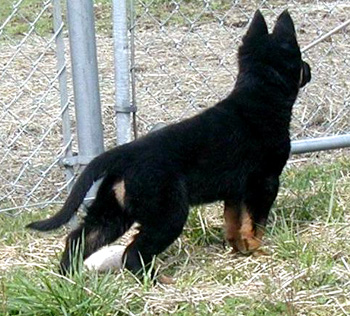 Eina @ 7 wks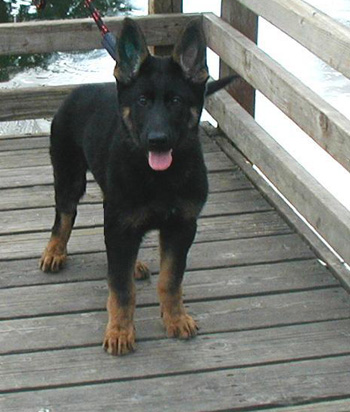 Eina @ 12 wks of age


Eina whelped her first litter on March 9th, 2011.
Sired by our stud dog Lobo von Schraderhaus, her pups are Solid Black and BiColor;

7

Males /

4

Females.


View the litter HERE
Lobo, the sire of her litter is the son of our DDR Male Lux vom Kameruner Eck, and his dam is our Slovak female Xena Ort. This litter has great substance, beautiful heads, and very strong constitutions. Temperaments will be well balanced and outgoing, and pups will make excellent prospects for SAR and Schutzhund sport, as well as excellent home companions and protection dogs for the family. Expect high tracking ability and strong nerve.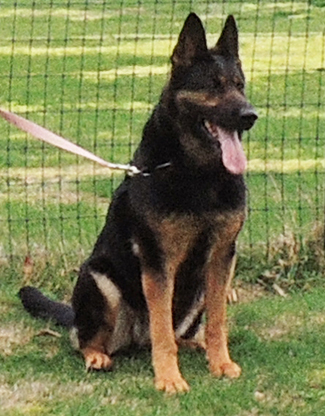 Feb 17, 2016
Eina @ 4.5 yrs old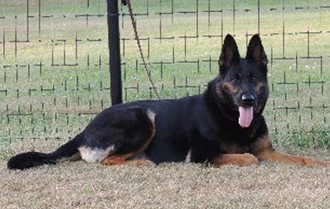 Eina @ 4.5 yrs old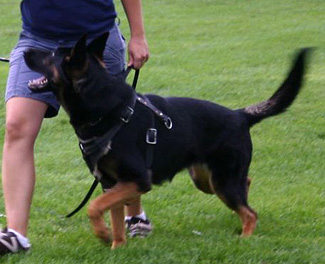 Eina @ 19 mos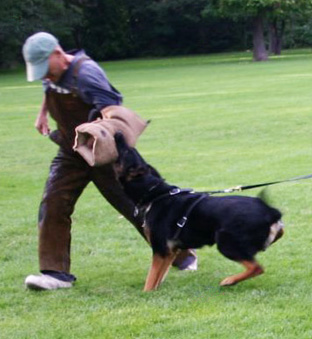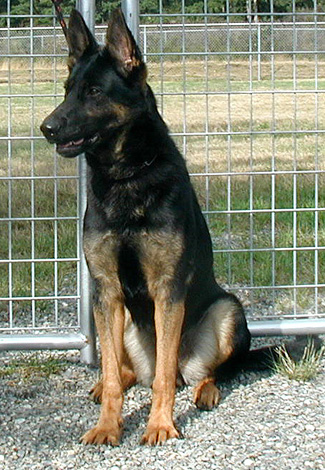 Eina @ 18 mos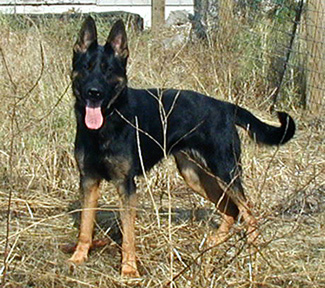 Eina @ 18 mos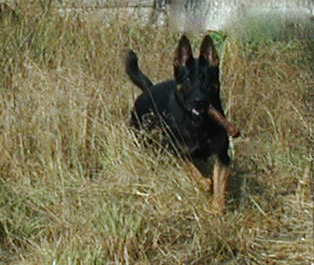 Eina @ 18 mos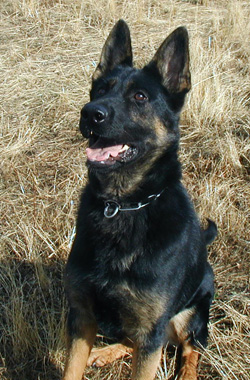 Eina @ 21 mos