Gradalen's Farox
Trained Dual Purpose Dog
A strong and sure large male of true bicolor coat coloration, Farox has the huge blocky head and substantial bone structure for which the DDR Dogs have been so highly sought after, and consistently pass along to their offspring. Farox possesses a rock solid temperament, unfailing courage, and a super tracking nose utilized for producing pups suited for work in S & R and Police Patrol work in narcotics or cadaver work. Due to his large size, he is also well suited for producing pups for use in Police street patrol and as personal protection dogs.

Farox's pedigree is 100 % East German.
Farox has been trained in Dual Purpose Protection Work.

Farox' Maternal Great Grandsire and Paternal Gr.Great Grandsire "Lord" vom Gleisdreieck was a top producing male who was renowned for imparting excellent working drives into his offspring, and was one of the finest producers of sound hips (producing good-excellent hips with around 98.5% success rate). A 3 Time DDR Sieger and 2 time winner of the East German Championships, Lord got his SchH1 title with a perfect score of 300 points. Out of his first 19 trials, he scored 15 perfect 100's in tracking. His lowest tracking score was 97!**DDR Lines to Lord vom Gleisdreieck, Alf Krnersee, Newman's Jim, Brando vd Marderklause Jeff vom Flamings-Sand, Blacky vom Gleisdreieck , and the Excellent Producing and well known Old DDR Dogs Arko vom Grafental, Don v Rolandsteich, Held Ritterberg and Ingo von Rudingen (credited for producing some of the strongest structural health for the working German Shepherd gene pool, vastly improving upon pigmentation and working abilities).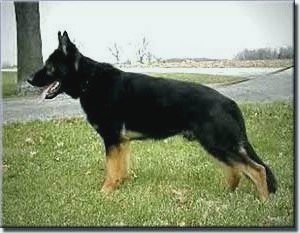 Farox's PhotoPedigree

Additional photos of Farox

View his daughter, our female
Jonni von Schraderhaus