Imported from Eurosport K9, Helga is a nicely built, substantial and compact female with well developed deep chest, powerful front shoulder and rear quarters. She possess a very nice topline and underline, with a lovely expressive head type & dark eyes.
Helga is a Dark Mahogany Sable.
A sure and strong female, Helga is an extremely confident female in all situations. She conducts herself in a mannerly way in public with steady and sure nerves, showing a great capacity to handle stress. She is a friendly and good natured female who loves children and tolerates small animals and other dogs well. She is an excellent mother and produces healthy , active and robust pups.
She exhibits very good focus and is responsive to her handler. Her obedience is crisp and consistent.
Imported from Europe carrying the well known solid working bloodlines of Pohranicní stráze, Helga is the daughter of Galant z Pohranicni straze, IPO1, SCH1, SVV3 and granddaughter of Ori z Danaru, SVV2. Ori is grandson to outstanding producer Car pod Molinosskou Bannou, V Rated, SVV3, IPO3, SPO3. Yet another great product of the Slovak breeding program, Helga is a super confident and calm worker, willing in nature always wanting to please her handler.
Her mother Loly Nový Spis is grand-daughter of Figa Cega, and daughter of Came z Esagilu. Loly's mother Came Esagilu is daughter of Grim z Pohranicní stráze (ZVV3, IPO3, SchH3, ZPS1, FH1) Grim z Ps. was one of the most well known producers from the Pohranicni straze kennel, and was awarded Best Czech Defender, Multiple WUSV Competitor, 1997 Czech National Champion and placed 7th in the 1997 WUSV. This proven bloodline goes back on some of the strongest producing DDR blood of Bero v.d. Friedersdorfer Flur, Held v. Ritterberg, and Ingo v. Rudingen. Held and Ingo produced much of the strongest structural health for the German Shepherd gene pool and vastly improved upon pigmentation and working abilities within the German Shepherd Breed as a whole.
We are pleased to include Helga into our breeding program and are confident that she will add a strong work ethic and hardness to her puppies along with an outgoing and confident temperament. Her pups will be manageable and easily trained, and highly suited for police work, S & R, schutzhund, as well as trustworthy home and personal protection dogs.
● Click to view Helga's page from Eurosport K9...and clips from Helga's littermate, Hulk.z Eurosportu...working Police K9..
and of Helga's brother Hulk on the job...
http://www.youtube.com/watch?v=w5dquhjfP9I&feature=related
View Helga's first litter
for Schraderhaus K9
by our late
Norbo von Schraderhaus.
This litter is FULLY RESERVED

View Helga's second litter
for Schraderhaus K9
by our solid black stud male
Lobo von Schraderhaus.

Helga has whelped her 2011 litter sired by our
Beautiful Black Stud dog, Lobo von Schraderhaus.
5 Females / 4 Males , BiColor and Black Sables.
Click here to view their puppy page.
This litter is FULLY RESERVED

View Helga's 2012 litter
for Schraderhaus K9
by our solid black stud male
Dino von Schaferliesel.
This litter is FULLY RESERVED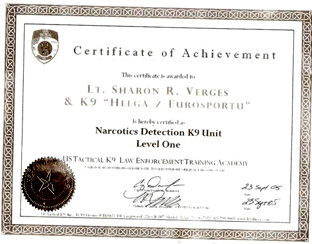 Helga is an excellent representation of the quality progeny produced out of our retired female, Loly Nový Spis.
From Loly's first litter whelped in Europe , Helga's sire is the well known, excellent producing stud for Eurosport K9 in Europe,
"Galant z Pohranicni stráze", SVV3, IPO1, SCHH1, Kkl 1. A gifted student of their puppy program before coming to America, Helga is clear in the head with high focus and intelligence, and has gone on to become a trained and fully certified Narcotics K9.
. Click to view Helga's page from Eurosport K9.

Helga's sire, "Galant z Pohranicni stráze", SVV3, IPO1, SCHH1, Kkl 1.
From Eurosport K9...
"Galant went for his lifetime breed test and he received the highest possible scores. Rating 5VQ5/55 1st Class 26" and 94 pounds, He is highly recommended for breeding. The helper is a national level helper who is also a K9 officer. He said "Galant is the only dog out of 45 dogs today that CHALLENGED me"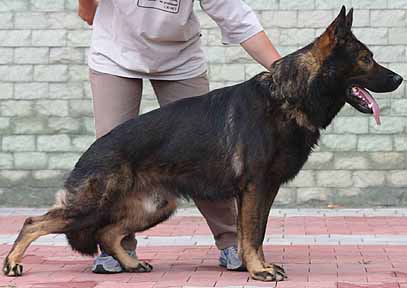 Click to view
V1, CAC, CACIB Best of Breed Nitra International dog show.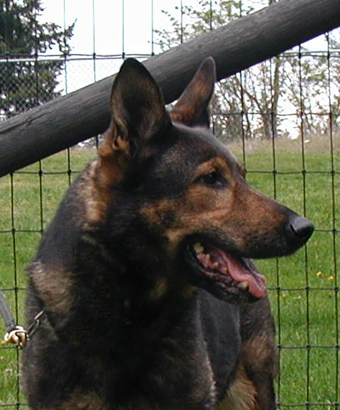 Helga April 2010
Helga April 2010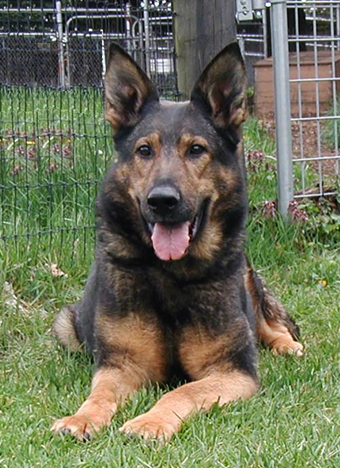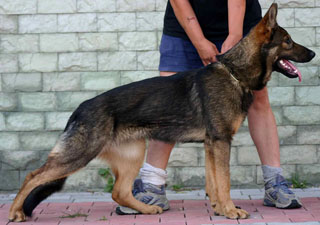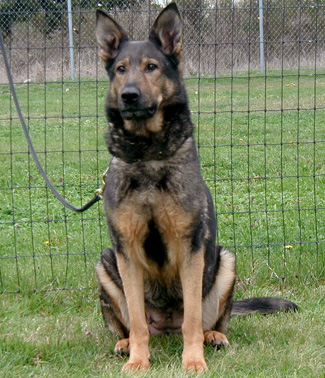 Helga April 2010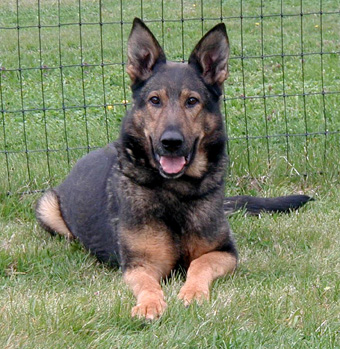 Helga April 2010