LoLinda Uma von Schraderhaus
Czech/Slovak Pedigree
LoLinda has excellent focus and a confident stable nature. She is a serious, exuberant female of excellent proportion and substance. A confident young female, she has good prey drive and is athletic and boisterous. She possesses very good social skills and like her mother, has a kind and fun-loving personality and is tolerant and accepting of young children.
LoLinda produced her first litter in July 2011, sired by our DDR Stud, Lord v.d. Grauen von Monstab, SCH3, KKL1. which produced the lovely female pup, Ondra von Schraderhaus. This beautiful dark sable is half East German, Half Slovak lineage, and is drivey and very agile, also highly intelligent, with an excellent tracking ability. View puppy page

Her excellent producing sire, our Slovak Import Argo z Libocké zahrady, is an absolutely impressive, heavily boned, serious and substantial solid black male with excellent masculine characteristics. Large and solid body structure with very good working conformation , Argo possesses the great head type which is typical of the Slovak and East German / DDR Dogs. Argo is a Slovak Import with Hips A1. He is an extreme quality male with very good work ethic demonstrating super bitework, super retrieve, and confidence on slick floors. He has good health
Argo's maternal grandsire, Cak Pisecna boure has produced excellent working progeny on an International level for over 6 years and imparts perfect character type into his progeny. He is a gorgeous solid black male with massive boning coupled with an extremely strong head type. Cak has sired 63 successful working litters during his breeding career in Europe, with many of his progeny being utilized and certified for work in Law Enforcement.
LoLinda Uma's dam is our own excellent producing retired brood bitch Xena Ort CS Imported directly from Slovakia, Xena has the distinction of earning her title honors through the efforts of her family member and master, a 14 year old boy. Xena is a beautiful and large bi-color of rich black pigmentation on her topside with a rich accent of red on her lower torso. She has a beautiful head and large bone structure and those who come to see Xena do not guess at first that she is a female. She has an excellent temperament, is very friendly with new people she is meeting for the first time, is fun loving and very devoted, noting where her master is at all times. However, she is very protective of her surroundings and is quick to let you know if someone is entering the property.

Xena's sire, Niko Milvel IPO3, SCH2 is rated excellent, hips and elbows 0/0. Her dam, Hexa Bino CS is rated very good, hips and elbows 0/0 and is titled ZVV1. Her grand-dam Betty Darajam CS is one of a very few select females to achieve the difficult title of ZVV3, as well as earning a ZM, IPO2, & OP1. Her great grand-dam, Axa z Travnickova dvora also achieved the coveted ZVV3, along with her ZM and ZPO titles. Xena is an excellent mother and a very good producer, producing large, well proportioned pups with correct structure and wonderful temperament. She is excellent around children of all ages, as well as cats and other dogs, including females and is able to co-exist with other females that we have as house members, yet she will staunchly defend her territory when challenged. Steady and sure of nerve,
Xena is titled SVV1, with Hips and Elbows 0/0

LoLinda Uma's Pedigree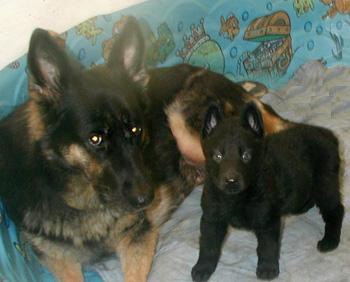 Xena and LoLinda Uma @ 5 wks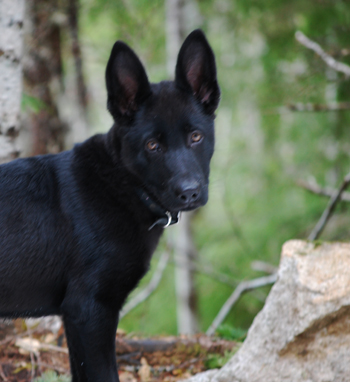 LoLinda @ 16 wks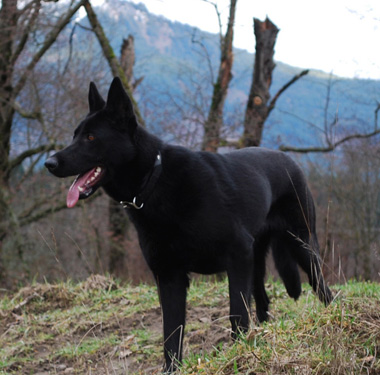 LoLinda 26 mos old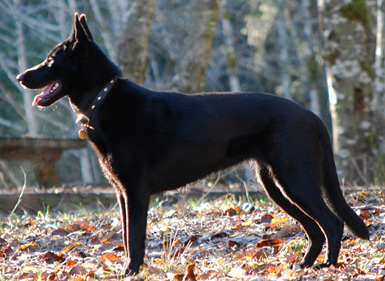 LoLinda 26 mos old