Gesi von uns Heimaturt

Imported from Germany, Gesi is a lovely female with excellent DDR head and dark pigment that is known to the DDR Dogs. Gesi has the typical and highly sought after look and expression of a good DDR type that is appreciated by DDR lovers and enthusiasts. Gesi is a well proportioned female with very nice correct topline and underline, substantial bone and lovely expression with dark eyes. Her expression, and head type is super and is typical of the DDR dogs. Daniela Huppe Imported Gesi
She carries a rich dark black sable coat pattern with excellent pigmentation. Gesi has an extremely high play / ball drive and is a fun loving girl with an outgoing and free temperament.
Sireline:
Arek von uns Heimaturt
embodies the typical old style DDR dog - substantial, big boned, typey and masculine. Arek was an active security K9 and reproduced his type and temperament extremely well. Arek's sire
Aron vom Sachsentraum
was also a good sport dog that competed at LGA level in Germany and the sireside includes well known DDR dogs that have been used for K9 work and K9 breeding.
Daniela Huppe Imported Gesi
Motherline:
Ina v Flossgraben
has had an outstanding HD performance in her breeding career. She has produced 34 pups from 8 litters after 6 different sires, out of which 14 pups have been x-rayed and submitted for a-stamps so far. 12 have come back with a1 and only two with a2. Her ZW has been continuously lowered over time and is currently at 72 (Q2/2007). Placing directly behind the Sieger
Baldo vom Wolkenstein
Gesi's grandsire
Zorro von der Bahrener Höhe
participated in the last DDR Sieger show in 1989 at age 2 , taking home an impressive V2 thus being Reserve Sieger that year. Zorro also placed well before Neumann's Jim (V10 in 1989) who is also a popular and well known DDR line sire. At the end of 1989 the wall came down and the DDR ceased to exist. This was the last the DDR had to offer in terms of GSD's of their time. On Ina's motherline her grandsire is
Addi von den Tonteichen
, son of
Birko von der Wolfshöhle.
Both Addi and Birko are dogs found in the background of many well known and excellent producing DDR stud dogs .
Daniela Huppe Imported Gesi
Link to more info on Zorro
* Gesi's PhotoPedigree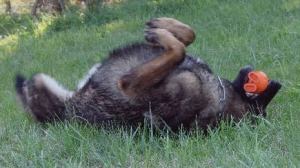 Gesi is linebred on the following DDR Dogs...