V Lord v.d. Grauen von Monstab,
SCH3, KKL1, Hips A1 ED Normal
LoLinda Uma v Schraderhaus
Hips OFA Good ED Normal
See Updates Below on LoLinda and Lord's' "O" Litter...

LoLinda and Lords' 2011 Litter
Litter Born
July 6th, 2011




Litter Pedigree for LoLinda x Lord
50% DDR / 50% Slovak Female
Litter Is FULLY RESERVED !
Ondra von Schraderhaus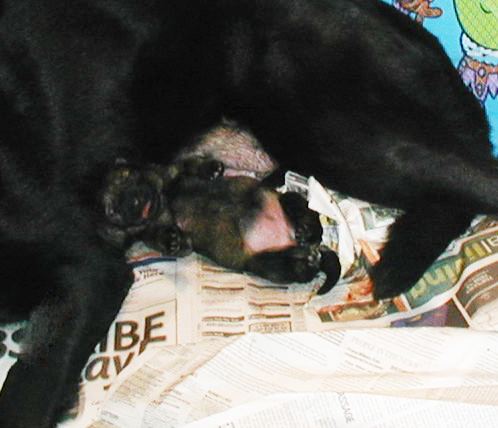 Ondra @ 24 hours old...
SOLD


The Son of

V (LGZS) Aron vom Poppitz and V Sindy vom Schäferliesel

, Lord v.d. Grauen v Monstab has a serious disposition, possessing a perfect balance of prey/play and fight drive. His character is playful but extreme in the desire to protect those whom he considers family. His dark pigmentation of coat, incredible head and excellent substance of structure is what we expect in our DDR Dogs..His pedigree is packed full of well known, proven producers of excellent working DDR lineage, such as SchH3, IPO3, FH2 V Don vom Clausberg

,

SCHH3,FH1, BSP SG Muchta vom Schwarzhorn , SCHH3 (LGA) FH2 IPO3 V Tino vom Felsenschloß , SCHH3 ( SG-LGA ) V Brando von der Marderklause, UCI INT CH SCHH3 LBZ V Illa von der Mittelhäuser Flur, SchH3/IP3 V Don vom Haus Iris, SCHH3,FH3,KÖR.6546/54 V CH (US) Neumann's Jim, SchH2/FH V Don vom Rolandsteich, SCHH3 ( G-BSP ) IP3SG Irko vom Peri-Hof, SCHH3, FH3 SG Lord vom Gleisdreieck, DDR-MS X2 SCHH3 FH3 SG Blacky vom Gleisdreieck, SchH2/FHV Jeff vom Flämings-Sand, SchH3/PSH1 V Alf vom Körnersee, DDR SGR 1979, SCHH3 V Bodo vom Gräfental, and SCHH3 V Ingo von Rudingen



From the mother line:

LoLinda's excellent producing sire, our Slovak Import Argo z Libocké zahrady, is an absolutely impressive, heavily boned, serious and substantial solid black male with excellent masculine characteristics. Large and solid body structure with very good working conformation , Argo possesses the great head type which is typical of the Slovak and East German / DDR Dogs. Argo is a Slovak Import with Hips A1. He is an extreme quality male with very good work ethic demonstrating super bitework, super retrieve, and confidence on slick floors. He has good health . Argo's sire is Xac z Pohranicni stráze.
Argo's maternal grandsire, Cak Pisecna boure produced excellent working progeny on an International level for over 6 years and imparts perfect character type into his progeny. He is a gorgeous solid black male with massive boning coupled with an extremely strong head type. Cak has sired 63 successful working litters during his breeding career in Europe, with many of his progeny being utilized and certified for work in Law Enforcement.

LoLinda Uma's dam is our own excellent producing retired brood bitch

Xena Ort CS

Imported directly from Slovakia, Her

grandsire,

Niko Milvel

IPO3, SCH2 is rated excellent, hips and elbows 0/0.

Her granddam, Hexa Bino CS is rated very good, hips and elbows 0/0 and is titled ZVV1.

Her grand-dam Betty Darajam CS is one of a very few select females to achieve the difficult title of ZVV3, as well as earning a ZM, IPO2, & OP1. Her great grand-dam,

Axa z Travnickova dvora also achieved the coveted ZVV3, along with her ZM and ZPO titles

.

Ondra @ 3 days old


SOLD







Ondra 2.5 wks old




SOLD



Ondra 3 wks


Ondra 3 wks


Ondra 3 wks



SOLD



Ondra 3.5 wks old


Ondra top left @ 5 wks...
Dany's "P" Litter beneath


Ondra @ 6 wks


SOLD



Quality Working German Shepherd Dogs
Roy, WA. (United States)
+1.253.843.1123 PST