We are extremely pleased to have and to utilize this excellent working female of our own bloodlines in our breeding program. She will have much to offer in the pups she produces, making them excellent candidates for not only police work and tracking/scent work venues, but for home protection and famliy companions and therapy work as well due to her stable and tolerant disposition when meeting strangers.

A highly confident female, Denzi is the daughter of our DDR Male, V Lord von Den Grauen von Monstab, SCH3, KKL1 , and is out of our retired West German female, Yumi vom Floriansbrunnen
AD, SCH1.
A very nice combination of East and West Working blood, Denzi brings sought after traits of excellent tracking skills along with that of biting strength and courage under threat.
Denzi has an outgoing yet bold, strong and confident temperament. Powerful and lightening fast in the long bite and confident in the bark in hold, She is high in courage with an intense, full grip in bitework. Tracking work is excellent and she has a deep, accurate nose with very good hunt drive to the source. She is quick to learn and has a good work ethic. A fearless female that doesn't back down from a threat, we will utilize Denzi in our breeding program to continue on these excellent traits in her progeny produced here for our kennel,
as working pups for schutzhund, personal protection and police /narcotics work in the future.
Denzi is an excellent mother, very nuturing and caring toward her pups, which we believe to be a very important aspect in how the pups establish and form their own personalities and temperaments. Her pups will be excellent prospects for SAR as well as for use in the home for family protection as warm, outgoing and interactive family companions.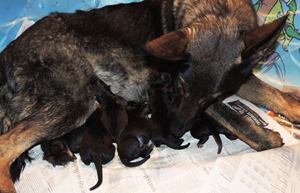 Read Denzi's Story...

&

Click to view Denzi's 1st litter...



~~~~~~~~~~~


Click to view

Denzi's 2014 " M" litter
sired by our DDR Male,
V Gerry von Weltwitz,
AD, IPO3, FH2

A1 / ED Normal, DM Clear
Litter Is FULLY RESERVED

~~~~~~~~~~~~~~


Click to view

Denzi's 2016 " H " litter
sired by our DDR Male,
V Gerry von Weltwitz,
AD, IPO3, FH2

A1 / ED Normal, DM Clear
Litter Is FULLY RESERVED
~~~~~~~~~~~~~~


Click to view

Denzi's "X " litter
sired by our DDR Male,
V Gerry von Weltwitz,
AD, IPO3, FH2

A1 / ED Normal, DM Clear
~~~~~~~~~~~~~~