Zustav von Schraderhaus
Pure DDR/East German Pedigree
DOB 6/27/2012
HD: SV Hips A2 ED Normal
Sire: V Lux vom Kameruner Eck
DDR /East German Pedigree
Dark Black Sable
DM Homozygous N/N, Clear

Zustav is an incredibly gorgeous male of impeccable temperament. Functioning as the family protector and guardian for our Co-Owner, Leslie Meyers, Zustav resides with another of our boys, Zargo within Leslie's Family. He has an excellent natural suspicion of strangers, and does not hesitate ot protect the family. Like his father Lux, Zustav has very good hunt drive, ball drive, and loves his people.
From the Dam Line: Zustav's mother, our Ingka von Schraderhaus, was whelped from our litter with V Dany vom Gräfental who was Imported from Germany in whelp to the late Pure DDR German stud V Ron vom Ludwigseck, Sch 3, KKL1. Dany is a 100% DDR female, V Rated, Sch2 and KKL1 with excellent DDR head and dark pigment that is known to the DDR Dogs. Like her mother Dany, Ingka is a well proportioned female with very nice correct topline and underline, substantial bone and lovely expression with dark eyes. Her expression, character and head type is super and is typical of what we like to see from the the DDR dogs. Ingka's coat color is a beautiful sable coloration. She has an outgoing and free temperament. and shows good ball drive and very good natural suspicion and protection instinct making her an excellent choice for pups which will be suitable for Family protection, Schutzhund, S & R dogs as well as therapy dogs. Ingka also has strong herding instinct with excellent driving and gathering skills.

Zustav's Sire, V Lux vom Kameruner Eck, SCH3, KKL1, is one of our most beloved stud dogs we've had the pleasure of knowing and utilizing throughout our history as a breeding kennel. An Absolutely impressive heavily boned, black sable male with masculine and strong head typical of the East German / DDR Dogs,. Lux is V Rated, KKL1 for Life, A2 hips/ ED Normal. Lux's Sire, Tino vom Felsenschloss
has consistently been a top producer in Germany for a combination of outstanding structure and temperament.
In addition to the excellent bloodlines Lux inherits from his sire line, he inherits the incredible and well known protection and tracking abilities from his maternal grandsire, possessing the valued distinction of being the grandson of the great DDR sire, Lord vom Gleisdreieck. View 1995 Lord Video,. Lord is recognized as one of the most influential past stud dogs to have contributed to the DDR Breed as we know it today.
Like his father and grandfather before him, Lux has an excellent disposition and work ethic. His pups and grandpups have consistently proven to possess his spirit
of kindness and exhibit his excitement and drive for the
ball and excellent deep nose for tracking, along with good protection skills and sure and stable temperaments. His offspring have deeply pigmented coloration of coats, with excellent working structure and substance of bone. Temperament and drive for the work has been outstanding in his pups, as well as the gorgeous head type that he passes along into his offspring. Lux embodies all of the wonderfully sought after attributes that are associated with these East German dogs and has consistently passed these sought after qualities into his offspring produced here at Schraderhaus K9; highly evident in this yet another impressive Lux son, Eli von Schraderhaus.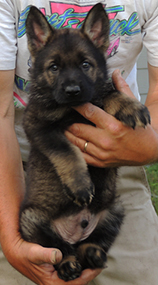 Zustav 7 weeks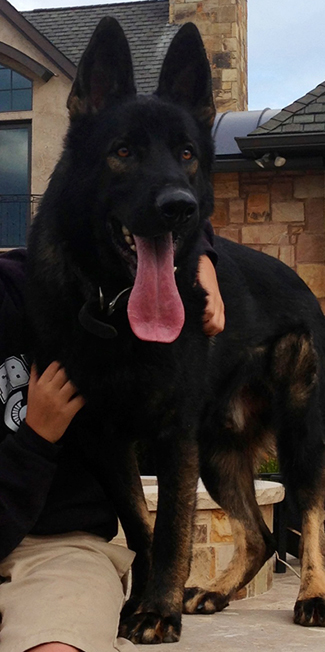 Zustav 17 mos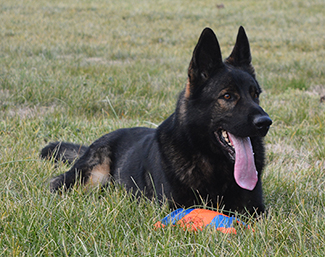 Zustav_4 yrs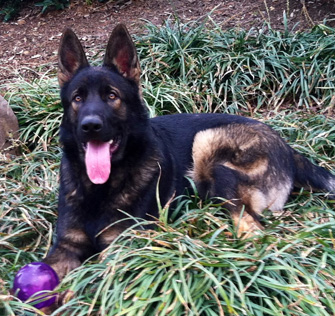 Zustav_3 years old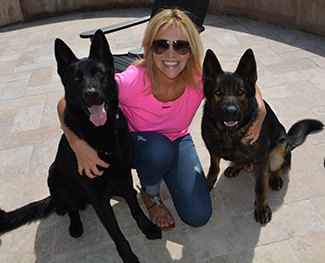 Zargo , Argo son with Leslie, Zustav's co-owner, and Zustav