"
Tomas Siegfried von Schraderhaus"
Hips: SV A1 /ED Normal
Pure DDR/East German Pedigree
HD: A1 / ED Normal (

@ 47 mos)
Pure East German/ DDR Pedigree
Black Sable

Produced here at Schraderhaus K9

Clearance Tested: Degenerative Myelopathy

Results:
DM CLEAR thru parentage (Homozygous N/N, Clear)
With very few exceptions,
Tomas is not availlable for breeding
to females other than our own.
Like his father Lord, Tomas is an impressive heavily boned, dark black sable male with masculine and strong head typical of the East German / DDR Dogs. 100% East German Pedigree.

He is an athletic male of substantial bone size, large blocky head type and beautiful movement and correct working conformation. His temperament is clear but he makes it known he is a no nonsense boy... a REAL dog with hard nerves and excellent working drives, something desperately needed in our dwindling gene pool resources of the old style, great working DDR dogs!


Likewise, Tomas is also playful and loving with his family, and possesses a good work ethic. We anticipate his pups will also possess

his spirit and strong drive for the work, and exhibit his excitement for the ball and excellent deep nose for tracking with strong, highly confident temperaments.

Deep pigmentation of coats will be outstanding in his pups, as well as the gorgeous head type that he passes along into his offspring. We anticipate many excellent litters from this outstanding DDR male.



From the dam line:

Elfie vom Klödener Riss is daughter of SG Hanka vom Hellersteg and V Walko vom Gräfental, Her pedigree contains the well known working/producing DDR dogs SG Filou vom Kaolinsee , V Tino vom Felsenschloß, V Brando von der Marderklause, V Illa von der Mittelhäuser Flur, SG Cessi vom Gleisdreieck and the excellent working dog, V CH (US) Neumann's Jim Imported from Germany, Elfie is a highly confident female, calm and sure in nature, with a correct, equal balance of prey /play /defensive drives. She is a large, V Rated female, measuring 60 cm on her Koer Report with superb substance of bone. An excellent, patient and careful mother with her pups, her first litter with Lord has produced pups possessing substantial bone, beautiful blocky head type, and extremely dark pigmentation of coats. Pups were strong immediately at birth; these being some of the quickest pups to find and nurse strongly from the dam within only minutes of their birth.



From the sire line:

Tomas's father is our DDR Stud dog Lord von den Grauen von Monstab,

SCH3, KKL1

Lord

has a serious disposition which commands respect, possessing a very good balance of prey/play and fight drive. His character is playful but serious, and he's extreme in his desire to protect those whom he considers family. His dark pigmentation of coat, incredible head and excellent substance of bone has been consistently passed along to his puppies, along with his high level of confidence and intensity for the work. His pure DDR pedigree is packed full of well known, proven producers of excellent working DDR lineage, such as

SCH3, IPO3, FH2

V Don vom Clausberg,

SCH3,FH1, BSP

SG Muchta vom Schwarzhorn ,

SCH3 (LGA) FH2 IPO3

V Tino vom Felsenschloß ,

SHH3 ( SG-LGA

) V Brando von der Marderklause,

UCI INT CH SCH3 LBZ

V Illa von der Mittelhäuser Flur,

SCH3/ IP3

V Don vom Haus Iris,

SCH3,FH3,KÖR.6546/54

V CH (US) Neumann's Jim,

SCH2/FH

V Don vom Rolandsteich,

SCH3 ( G-BSP ) IP3

SG Irko vom Peri-Hof,

SCH3, FH3

SG Lord vom Gleisdreieck,

DDR-MS X2 SCH3 FH3

SG Blacky vom Gleisdreieck,

SCH2/ FH

V Jeff vom Flämings-Sand,

SCH3/ PSH1

V Alf vom Körnersee,

DDR SGR 1979, SCHH3,

V Bodo vom Gräfental,

and SCH3

V Ingo von Rudingen Tomas is the Grandson of V (LGZS) Aron vom Poppitz and V Sindy vom Schäferliesel

,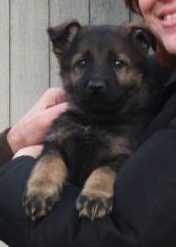 Tomas @ 6 wks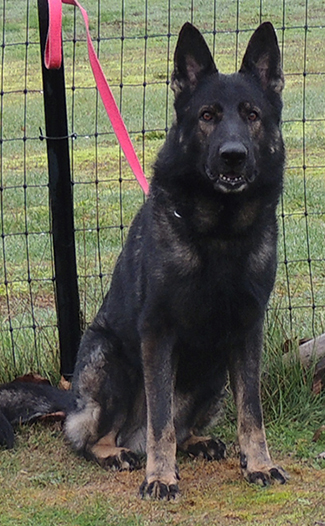 Tomas Siegfried von Schraderhaus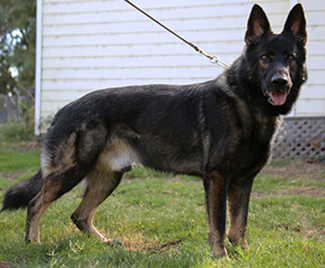 Tomas @ 3.5 yrs mos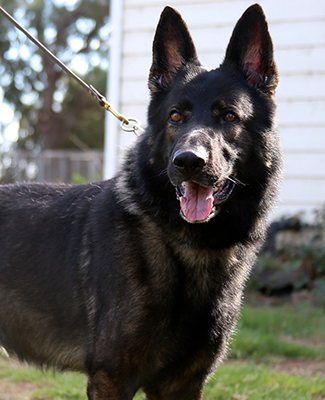 Tomas @ 3.5 yrs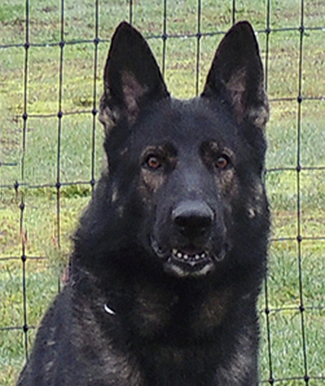 Tomas's Pedigree

With very few exceptions,
Tomas is not availlable for breeding
to females other than our own.