Ike z Kleinen Hain von Schraderhaus
DDR/East German Pedigree
Ike is a nicely structured, black sable pure DDR male out of Dany's first litter. Ike is willing and intelligent in his work, with good focus on the toy and an excellent prey drive. He is confident in nature, and is extremely agile at this young age. Ike's mother, V Dany vom Gräfental was Imported from Germany in whelp to her sire, Pure DDR German stud V Ron vom Ludwigseck, Sch 3, KKL1. Dany is a 100% DDR female, V Rated, Sch2 and KKL1 with excellent temperament and sound mind, and has the excellent DDR head and dark pigment that is known to the DDR Dogs.
In 2008, SchraderhausK9 imported full DDR V Dany vom Gräfental, Schh2, KKL1, Hips A2, OFA Good in whelp to Ron von Ludwigseck, Schh2, AD, BH. This breeding produced four excellent pups including Izabella Geist von Schraderhaus who has become the foundation female for the breeding program of Kennel von Wustentraum; www.vonwustentraum.com and Ingka von Schraderhaus, future breeding female for Schraderhaus K9

Ike's pedigree contains greats such as V Sven von Gräfental, V Illa von der Mittelhäuser Flur, Don vom Haus Iris, Newman's Sarah, Newman's Janka, Cessi v Gleisdreieck and the famous contributor to the breed, V Alf Kornersee.

Ike's Pedigree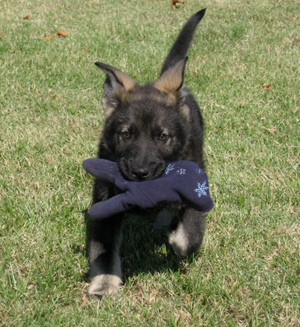 Ike @ 10 weeks of age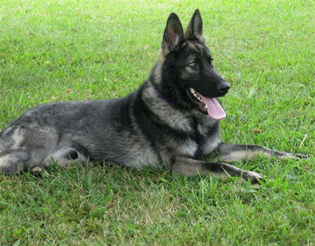 Ike 12 mos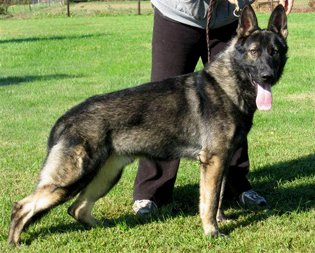 Ike 14 mos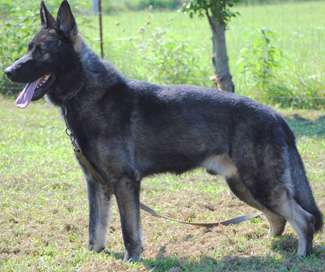 Ike 35 mos (out of coat)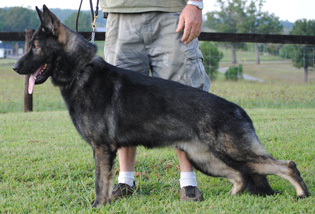 Ike 24 mos