Izabella Geist von Schraderhaus
aka "IZZY"
CGC, AKC Tracking Certified
DDR/East German Pedigree
Izzy is a large, solid black pure DDR female out of Dany's first litter. She is willing and intelligent in her work, with good focus on the toy and an excellent prey drive. She is confident in nature, and is extremely agile at this young age. Her mother, V Dany vom Gräfental was Imported from Germany in whelp to her sire, Pure DDR German stud V Ron vom Ludwigseck, Sch 3, KKL1. Dany is a 100% DDR female, V Rated, Sch2 and KKL1 with excellent temperament and sound mind, and has the excellent DDR head and dark pigment that is known to the DDR Dogs.
In 2008, SchraderhausK9 imported full DDR V Dany von Gräfental, Schh2, KKL1, Hips A2, and OFA Good at almost 5 years, in whelp to Ron von Ludwigseck, Schh2, AD, BH. This breeding produced four excellent pups including Izabella Geist von Schraderhaus who has become the foundation female for the breeding program of Kennel von Wustentraum; owned by my good friend Cat Best, Washington State. www.vonwustentraum.com
At maturity, Izabella will be used to produce a few very select litters to be donated to Search and Rescue, Law Enforcement or K9 detection agencies. Izabella exemplifies her breed standard showing strong nerves and a serious working temperament. Her primary discipline is tracking where she is showing immense focus. She received her CGC at 11 months. She is currently working under the supervision of AKC tracking judge, Debbi Hannah to obtain her TD, Tracking Dog, title in 2009. Her future working goal includes certification in SAR.
Her owner / handler Cathie Best says of Izzy, "I have never asked Izabella to try any task and been refused. She is always ready to move forward and is a solid example of what a working dog should be both mentally and physically. I will always be grateful to Jean Schrader for giving me the opportunity to own and train a dog with such high potential."

Izabella's pedigree contains greats such as V Sven von Gräfental, V Illa von der Mittelhäuser Flur, Don vom Haus Iris, Newman's Sarah, Newman's Janka, Cessi v Gleisdreieck and the famous contributor to the breed, V Alf Kornersee.
Izzy earned her CGC certification in July, 2009.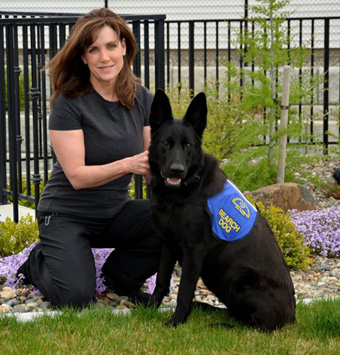 Izzy's Pedigree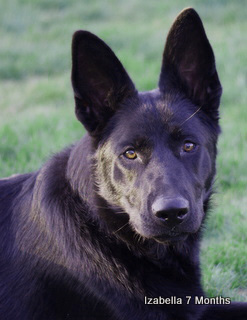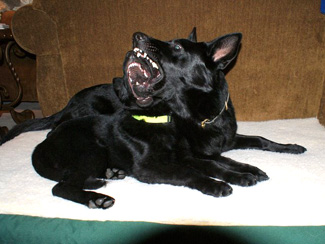 Izzy with Tazer Ace @ 4 months