Qru Le' von Schraderhaus

HD: SV A2 /ED Normal

Pure DDR Bloodlines
East German DDR Pedigree
Dark Black Sable
Clearance Tested: Degenerative Myelopathy
DM CLEAR thru parentage (Homozygous N/N, Clear)

A descendant of strong working East German DDR bloodlines and nicely bred from the blood from the well known Grafental kennel, Qru Le's mother Hetja is the product of our litter out of our DDR female Xenna v Parchimer Land, and is sired by our own Renown East German Stud Dog Lux vom Kameruner Eck, both of whom were imported directly from Germany.
Hetja's strong DDR Pedigree combines with that of Lux to produce a solid working pedigree of excellent East German Dogs known for reproducing their strong health and working characteristics;

Qru Le's excellent producing sire Lux vom Kameruner Eck. is V Rated, Sch3, KKL1 for Life. Imported from Germany, Lux's pedigree is an excellent working lineage of Pure DDR/ East German bloodlines. Lux is an extreme quality male with very good work ethic demonstrating super bitework, super retrieve, and confidence on slick floors. Well focused on the work and easily handled, He is a large boned, substantial male with an excellent large blocky head that the DDR dogs are so well known to possess and pass along into their offspring. He possesses a deep, richly pigmented dark black sable coat which he has consistently passed along to his offspring. His drive for the ball is intense and lightning fast, and in protection work he comes at the helper like a rocket, with excellent civil and defensive drive. Lux's temperament is very solid and he is an attentive dog to the handler. He is, at all times, agreeable, ready and willing to work.
Hetja's Paternal Grandsire, Tino vom Felsenschloß was a highly sought after sire in Germany, siring excellent working progeny. Lux is a grandson of Lord vom Gleisdreieck, well known for imparting excellent working drives into his offspring, particularly for tracking and protection work. DDR Lines to Jeff vom Flamings-Sand, Blacky vom Gleisdreieck, and Ingo von Rudingen

From the dam line: In addition to the excellent bloodlines Qru Le' inherits from her sire line, she also inherits the incredible and well known blood of the Parchimer Land kennel from her mother line in Hetja, whose dam was our lovely retired blk sable female, SG Xenna vom Parchimer Land, SCH1, KKIL1 and Hips A1 /ED Normal. Xenna is the daughter of our DDR Male, Dino vom Schaferliesel, SCH3, IPO3, A1 ED Normal, and Dino is the grandsire to Hetja.
Hetja's father is our retired DDR Male, "V" Ivo von Hauental, SCH3, KKL1. Both Xenna and Ivo's hip quality production has been exceptional, passing only healthy, quality hip ratings for their offspring, and we consider both these excellent DDR dogs to be hip improvers, consistently producing this trait in thier offspring produced, both when paired together and also when paired with other partners of our DDR dogs.
**DDR Lines to Jeff vom Flamings-Sand, Blacky vom Gleisdreieck, and Ingo von Rudingen (credited for producing some of the strongest structural health for the working German Shepherd gene pool, vastly improving upon pigmentation and working abilities).
The qualities Hetja is demonstrating from this strong working bloodline combination are very good natural suspicion and correct assessment of a possible threat...solid courage and good play drive. Like her father Lux, Biehla LOVES the water, and enjoys lakes and beaches at the ocean.
She has rich, dark pigmentation of coat coloration in black sable coat pattern.Demonstrating courage and super strong nerves, high prey and retrieve drives, w/ strong presence of excellent tracking ability. Hetja has excellent natural herding instinct, and has received her HIC and HCT certifications in herding. Her character is sure and devoted, and she is exhuberant, outgoing & happy when interacting with people, yet always still very watchful of a threat.
Qru Le's Pedigree
Qru Le''s Sire, DDR "V" Lux vom Kameruner Eck, SCH3, KKL1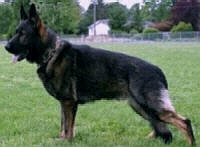 Qru Le' s Dam, DDR Hetja von Schraderhaus, A1/ ED normal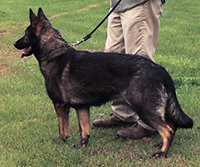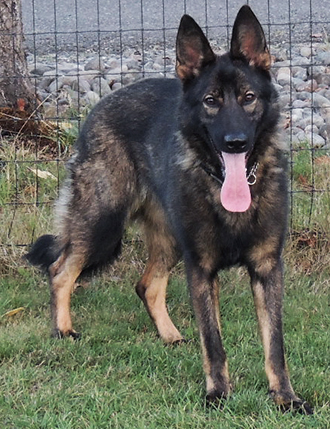 Qru Le' @ 13.5 mos