Zamborro von Schraderhaus
Hips OFA Good/ Elbows Normal
Pure DDR/East German Pedigree
HD:

OFA Good / ED Normal

Sire:

SG Gero vom Wartenberg
Pure East German/ DDR Pedigree
Black Sable
Schraderhaus K9 Progeny

Clearance Tested: Degenerative Myelopathy Results:




DM CLEAR thru parentage (Homozygous N/N, Clear)



Zamborro is an impressive, heavily boned, substantial black sable male with masculine and strong head. His lineage is that of 100% East German Pedigree. Likewise, Zambo is also playful and loving with his family, and possesses a good work ethic. His pups will possess his spirit and drive for the work, and exhibit his excitement for the ball and excellent deep nose for tracking. We anticipate pups produced by this male to have strong, confident temperaments and good trainability.
Deep pigmentation of coats will be outstanding in our future pups from Zamborro, as well as the gorgeous, large blocky head type which he will pass along into his offspring. We look forward to many wonderful litters from this beautiful DDR male and are thrilled to add Zamborro into our breeding program.




From the Sire Line:

Zamborro's father Gero is a half brother to our DDR Stud "

V" Lord von den Grauen von Monstab,

SCH3, KKL1, A1 /ED Normal, and like Lord, Gero is the son of

V (LGZS) Aron vom Poppitz

SCH3, KKL1"a"normal. Aron is owned by Julie Marlow of Von Banach K9. Aron is son of the top producing stud dog, Don v Clausberg, SchH3, IPO3, FH2. Gero's sire Aron was a top producer in Germany for many years before he was imported to the US, imparting into his offspring a combination of outstanding structure and temperament. Aron's dam is sired by the great

V Tino vom Felsenschloß

SchH3(LGA) IPO3, FH2, who was also the sire to our beloved V Lux vom Kameruner Eck, SCH3, KKL1 LBZ.



Gero is an athletic male of substantial bone size, large blocky head type and beautiful structure with correct working conformation. His temperament is outgoing and clear yet he makes it known he is a no nonsense boy... a REAL dog with hard nerves and excellent working drives, something desperately needed in our dwindling gene pool resources of the old style, great working DDR dogs! Gero's dam is the highly titled female V Yana vom Haus Dabbert, SCH3, FH2-BFH, IPO3.

From the Dam Line: Imported from Germany, Tina is a 100% DDR female with excellent DDR head and dark pigment. Her father, DDR V Duke vom Schäferliesel is a well known stud in Germany and littermate to our much loved DDR Stud, "V" Dino vom Schäferliesel, SCH3, IPO3. A large and very well proportioned female, she is Koered at 60 cm, with balanced and correct "V" Rated working structure. She has a large structure with substantial bone and lovely conformation. Her expression, character and head type is strong and elegant, and is what we seek in our DDR dogs, particularly in the females. She is watchful of her surroundings and quickly settled in after her arrival to us. She alerts boldly to strangers entering the premises. She is a confident, agreeable female, and her bite work is fast, full, and hard, earning 95/92/96 in her SCH1 Title scores. Tina is a proven mother and has produced good sized litters of healthy, robust pups with very good tempeaments.

Zamborro's coat coloration is a rich dark black sable. He has excellent social skills and is already demonstrating good protection of his home and surroundings, making him a good male for producing working prospects for use in Schutzhund Sport, PD Patrol work, as well as having the wonderfully clear, balanced and kind temperament for producing service and therapy dogs.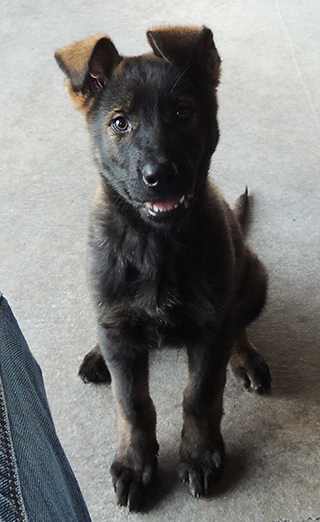 Zambo 3 mos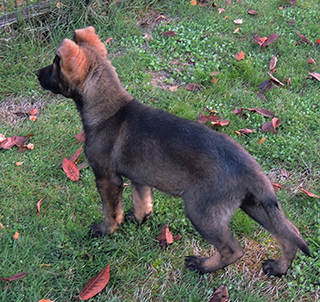 Zambo 3 mos

Zambo 4 mos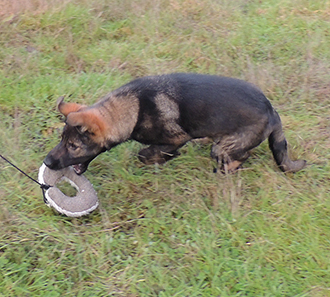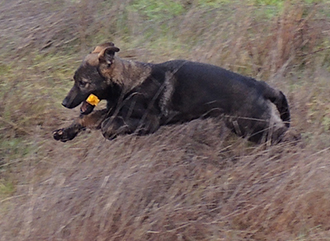 Zambo 4 mos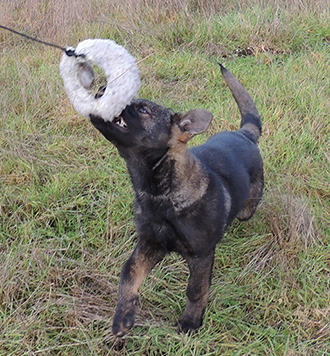 Zambo 4 mos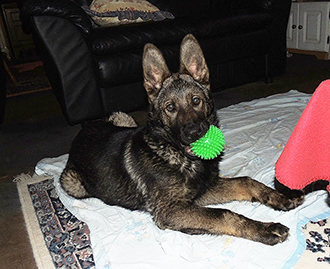 Zambo 5 mos

Zamborro 2 yrs 6 mos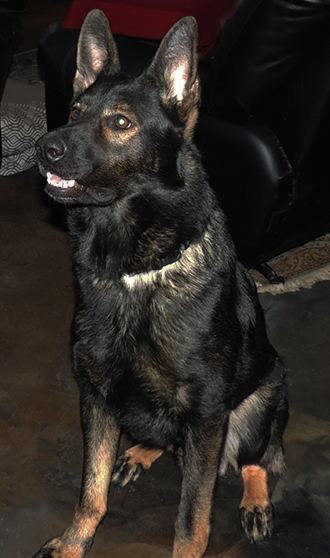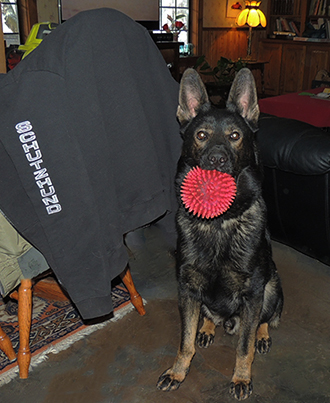 Zambo @ 2.5 yrs old
Zamborro 16 mos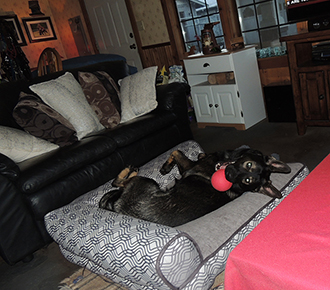 Zamborro 9 mos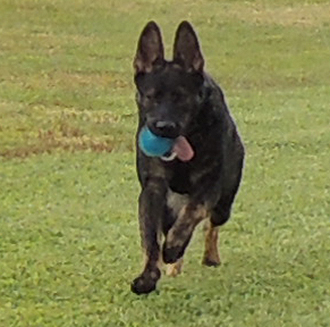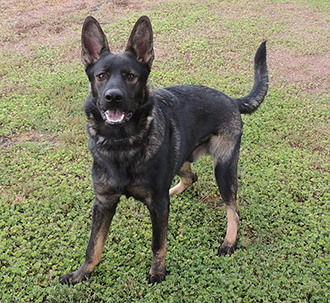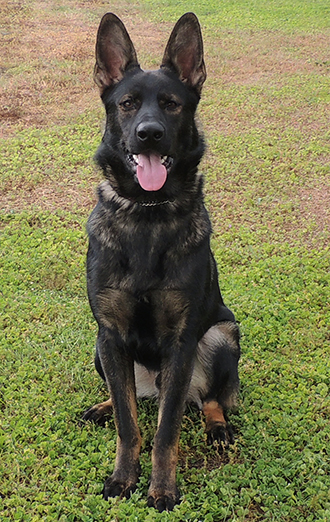 Zamborro @ 9 mos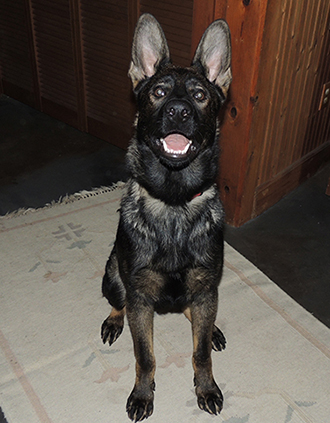 Zambo 8 mos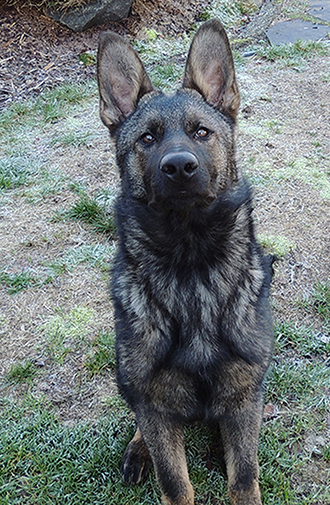 Zambo 6 mos