Imported directly from Germany and carrying the Well known East German /DDR Working Kennel name of "Grafental", Franzi is coming to us in whelp by the highly sought after Pure DDR German stud male
Sven vom Grafental..

Franzi's strong DDR Pedigree combines with that of Sven Grafental to produce a solid line breeding of excellent East German Dogs known for reproducing their strong working characteristics;
3-4,4 V Alf Krnersee 4-5 Yupp vom Grfental,
3-4 Tapsi vom Parchimer Land 4-5 Giesa vom Parchimer Land,
4-5,5 V Saskia vom Haus Kaiser, 4-5,5 SG Ellex vom Haus Iris,
Franzi is titled SchH3, KKL1, and is V rated in structure with Hips "A" Normal.
Her Coat color is a darkly pigmented black sable.
The sire of Franzi's litter is "V" Sven vom Grfental, Schh3, KKL1 for life. Sven is a substantial black sable male of extreme hard temperament and Pure East German DDR working pedigree. Biting strength is considerable with grips full and hard. Sven is focused and intense in all three phases, with extreme hardness, courage and fight in the protection work. Sven is "V" rated in structure, with the old DDR head type being very apparent and which the East/ DDR Dogs are known to produce in their offspring. Sven's excellent pedigree is one containing well known old DDR blood; solid proven lines that are consistently producing top sport and working dogs Hips certified "A" Normal.

The qualities that you can expect from this strong working bloodline combination are: rich, dark pigmentation of coat coloration in solid blacks and black sable coat pattern, courage and super strong nerves, high prey and retrieve drives, strong presence of defensive drives exhibiting full hard grips and super biting strength.
The puppies will be excellent for Dual and Single Purpose, high level Schutzhund sport, Personal protection, and other specialized working fields.
Sven v Grafental X Franzi v Grafental Franzi X Sven Litter---bred in Germany and Born in Washington, USA born September 14th, 2005 4 males.... 4 females....solid blacks and very black sables>>>
Note: all puppies from this litter are sold
very nice outgoing litter with good prey instincts & solid working structure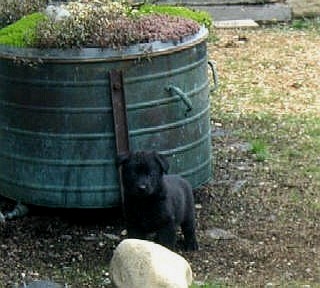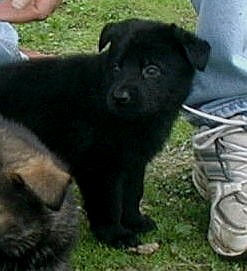 "blue collar boy" is SOLD ...
Orange collar girl, Black sable male are SOLD Black sable male, Yellow collar girl are SOLD
pink collar girl, SOLD pink collar girl, SOLD

Red Collar girl, pink collar girl, yellow collar girl ALL SOLD yellow collar girl...SOLD

Green collar boy SOLD Blue collar boy... SOLD

For information on Franzi's Upcoming litter by Lux due in summer of 2008,
please send request from our contact page.
Pups from Franzi X Lux Pups from this litter will be priced at $1500.00 each.