Norbo von Schraderhaus...a beautiful, dark sable, is a solidly built young male pup from a combination of impeccable and strong Czech working bloodlines. Norbo's dam, Denny Jipo-Me is one of the finest daughters of Gero z Blatenskeho Zamku (v?orn? ZVV3, IPO3, SchH3, FH, OP1) . Denny is the product of the exceptional breeding between Gero and the foundation female for the Jipo-Me kennel, Zeira Jirkova Dvora (velmi dobry, ZVV1, 0/0). Zeira was noted for passing on to her female offspring excellent temperaments and warmth in character, characteristic retrieve drive, and excellent overall working abilities. Denny is an ideal property protection dog, family companion, and personal protection dog. Hips & Elbows 0/0 (Excellent).
From a combination of some of the best working bloodlines combining Czech and East German pedigrees, Denny's highly concentrated pedigree is packed full of many of the strongest working dogs of the present and some truly great dogs of the past. Some examples of these fine dogs include greats such as Gero z Blatenskeho Zamku, Omar z Blatenskeho Zamku, Treu v. Schaferstolz, Iwo v.d. Buscheke, Whisky v. Ritterberg, Bojar v. Schotterhof, and the well known Czech female Klara z Pohranicni Straze who has been noted here because of her long list of super strong working offspring as well as Arko vom Grafental, (one of the last DDR Bundessiegers before the wall came down in 1985).

Norbo's sire,
Norbo Ben Ju
has been one of the most influential producing stud dogs worldwide for the original working German Shepherd Dog. He is truly one of the finest producing stud males to ever
be imported into the United States and has earned his place in history for improving upon not only the working ability of the original GSD but for imparting strength in structural integrity into his offspring.

Norbo Ben Ju has proven himself many times over as a Top Internationally Acclaimed producing stud male. He was the sire of the Famous T. Ben Ju litter which is a testament to how well Norbo imparts his tremendous biting power, strength of nerves, and height of working drives into his progeny. Within the T. Ben Ju litter you will see the number 1 working German Shepherd Female , Tia Ben Ju who won the World Team Qualifier in 03' and was 8th on the World Team, Littermate Tango, who is a top WUSV/ FCI competitor, and our Top working/producing female Trixa Ben Ju who was the # 2 Working female out of the Former Communist Block Region last year, WINNER OF THE PROTECTION PHASE IN THE WORLD TEAM QUALIFIER IN 02" and Recently earned her IPO3 in March of 03 at a very serious competition in Europe scoring 100/92/97.


Norbo von Schraderhaus @ 12 wks of age...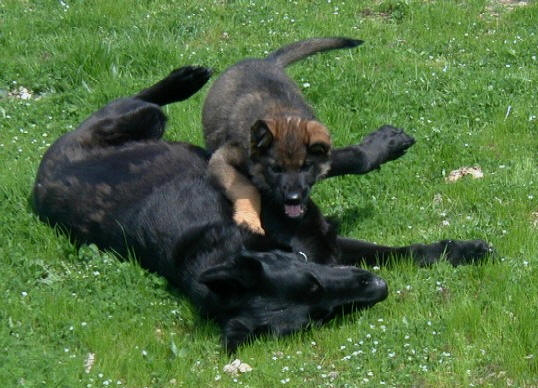 Norbo and friend, Gracie







Denny's Pedigree

Norbo Ben Ju Pedigree

Norbo Ben Ju Photo-Pedigree