DOB 4/28/2004
**Litter update.......
Denny whelped 9 beautiful black / dark sable pups by Faro Policia.
5 males, 4 females. Very large, vigorous, healthy and gorgeous babies!


Imported from Czechoslovakia Faro Policia is Rated Excellent, Breed Surveyed, 1st Select Breeding Class, SVV1 and Winner of the Stud Dog Show in Bratislava in 2000 in the Service Dog's Category at only 2 years of age! Hips and elbows 0/0 (Excellent).
Faro possesses excellent working structure with a distinct masculine head, perfect ear set, extremely dark pigmentation, considerable withers with strong back and proper angulation. He has spacious movement that is effortless, long and low over the terrain. He is equipped with perfect character, with highly developed prey and characteristic retrieve drives coupled with excellent defense. Faro is a wonderful balanced male with children as well. He is equipped with strong defense with a natural suspicion of strangers and is perfect at protecting his territory against a strong threat. Faro loves to work, and completes all the disciplines with willingness and fastness. He has super bitework, with full, hard committed grips, and perfect obedience.
Faro's bloodline combination is super with some of the most noted DDR producers within the breed, along with Certified Border Patrol Dogs in his first, second, and third generations. His dam, Fatyma z Pohranicni straze Certified Working Border Patrol Female, is one of the finest producing females of the past for the Border Patrol, and has not produced dysplastic hips in her 8 year breeding career.
His offspring are impressive to all who have tested his pups. He consistently produces truly excellent working drives, beautiful working structure, strong temperaments and very sound structural health. Faro was the #1 Producer within the famous Policia kennel in Slovakia and was amongst the top three producing stud dogs, for the year 2001, for the World Renown Border Patrol Breeding Program at the very young ages of 2 and 3 years of age. Faro Policia
Denny Jipo-Me is one of the finest daughters of Gero z Blatenskeho Zamku (výborný, ZVV3, IPO3, SchH3, FH, OP1). Denny is the product of the exceptional breeding between Gero and the foundation female for the Jipo-Me kennel, Zeira Jirkova Dvora (velmi, dobrý,, ZVV1, 0/0). Zeira was noted for passing on to her female offspring excellent temperaments and warmth in character, characteristic retrieve drive, and excellent overall working abilities. Denny is an ideal property protection dog, family companion protector, personal companion protector as well as a wonderful breeding addition to our working dog breeding program.
We are extremely pleased to be able to add Denny to our breeding program and are excited for what she will allow us to achieve in our offspring in the way of strong solid body type, warm character and exceptional temperament as well as the excellent and balanced working drive that we strive to produce in our offspring. Hips & Elbows 0/0 (Excellent).
From a combination of some of the best working bloodlines combining Czech and East German pedigrees, Denny's highly concentrated pedigree is packed full of many of the strongest working dogs of the present and some truly great dogs of the past. Some examples of these fine dogs include greats such as Gero z Blatenskeho Zamku, Omar z Blatenskeho Zamku, Treu v. Schaferstolz, Iwo v.d. Buscheke, Whisky v. Ritterberg, Bojar v. Schotterhof, and the well known Czech female Klara z Pohranicni Straze who has been noted here because of her long list of super strong working offspring as well as Arko vom Grafental, (one of the last DDR Bundessiegers before the wall came down in 1985).

Denny's working lineage in combination with that of Faro's working bloodlines will produce excellent pups with size, incredible bone, good looks & intelligence. These pups will be very warm in character type and will be excellent with children as well. Pups will have very balanced working drives and will be suitable for a variety of working fields including Schutzhund sport, Search and Rescue as well as wonderful family companion / protection dogs. Denny produces large, well proportioned pups with huge boning and correct structure along with great temperaments!.



All Pups shown below from this litter are sold...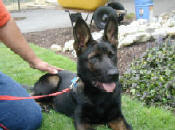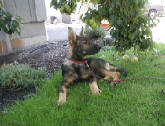 black sable male black sable female black sable male
"Eivar" "Ellie" "Erros"
Congratulations to Mark Dierck Congratulations to Marissa Elliott Owned by Billy Schweitzer
Proud Owner of Eivar Proud Owner of Ellie Florida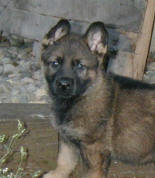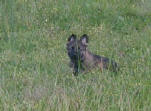 Elek von Schraderhaus @ 6 weeks
Owned by Jan Cozens of Vancouver, BC. Canada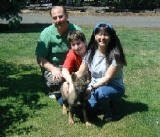 Congratulations to Susan, John and Peter Fedelman
Proud Owner of Enya v. Schraderhaus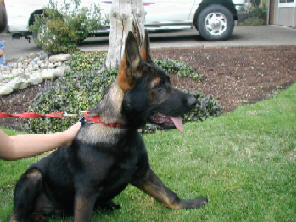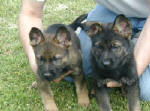 Mark Dierck's Brothers-Schraderhaus,
Eivar von Schraderhaus @ 3 1/2 months Elek and Erros

Ahhhhhh........ Elena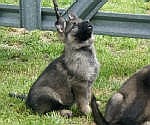 Elena v. Schraderhaus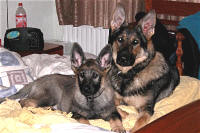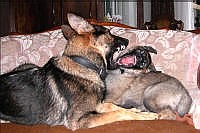 Elena and Qina (Elena's first training lesson in Bitework!!!)

The two above photos are with Elena's new friend Qina in her new home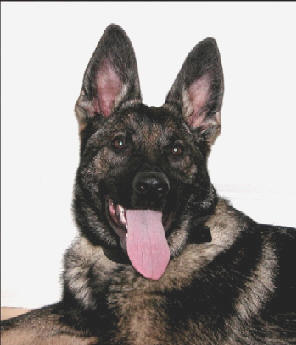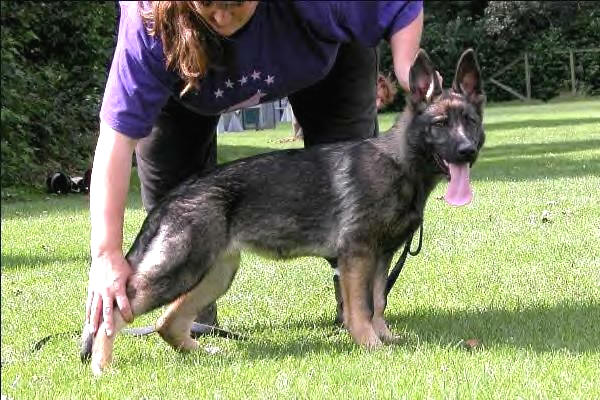 @ 4 1/2 months of age Elena von Schraderhaus @ 3 1/2 months of age
Elena has gone to a great working home in The Netherlands
Congratulations to Angela Mathijssen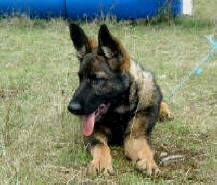 Eldar @ 4 1/2 months


Emir @ 4 1/2 months Erros @ 4 1/2 months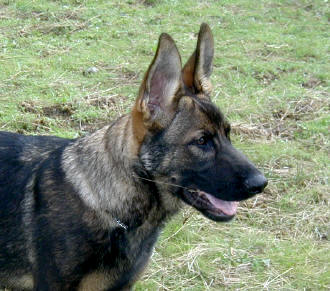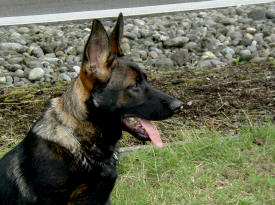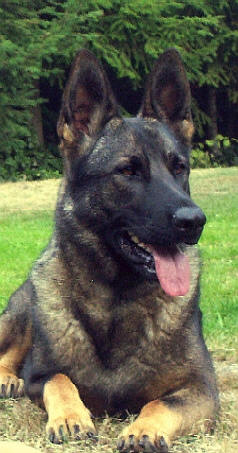 Ember von Schraderhaus
Owned by Amy Walker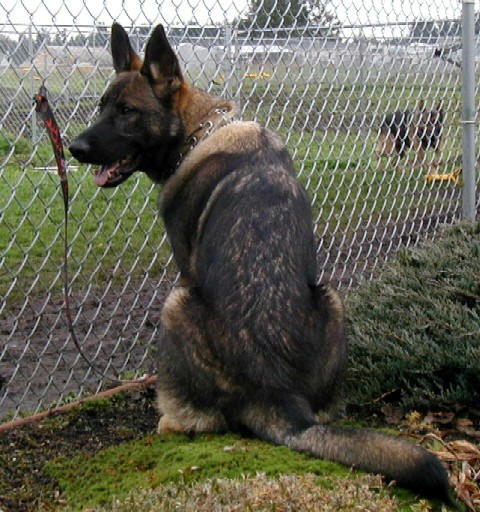 Eldar von Schraderhaus
@ 8 1/2 months of age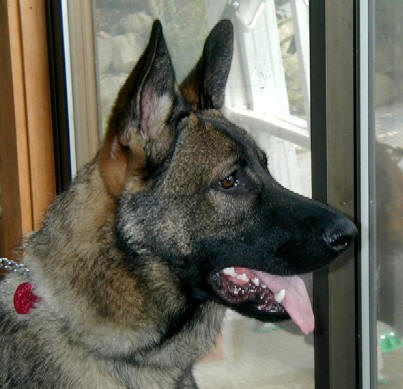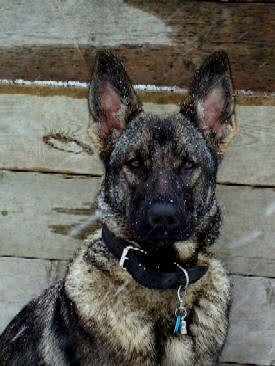 Elena von Schraderhaus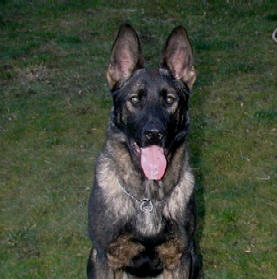 Erros von Schraderhaus
@ 8 months of age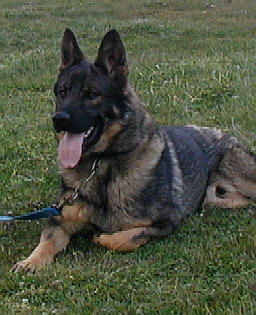 Norbo von Schraderhaus @ 12 mos.
(Norbo Ben Ju X Denny Jipo Me)
Schraderhaus K9 Male